Ultimate Protection for Competition Diesel Engines

Whether competing in sled pulls, drag races or dyno challenges, competitors using DOMINATOR® 20W-50 Competition Diesel Oil enjoy the confidence and security that come with providing their diesel trucks maximum protection and performance.
Racing and high-performance diesel engines are modified to deliver maximum horsepower and torque. Their powerful designs create shearing forces that can cause oils to lose viscosity, leaving bearings, pistons and other components vulnerable to wear and failure. DOMINATOR Competition Diesel Oil delivers 50 percent more film thickness* to withstand high cylinder pressures and protect against wear. It is heavily fortified with zinc and phosphorus anti-wear additives to provide additional protection against scuffing and wear in severe conditions.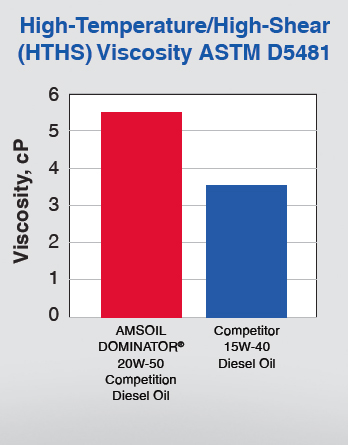 Competition-grade technology formulated specifically to deliver maximum power and protection in performance-modified diesel engines
Extra zinc and phosphorus for bulletproof wear protection
Fights oil breakdown under the extreme temperatures and pressures of competition, extending the lives of cylinders, rings, cranks, rods, turbochargers and bearings
High-viscosity formulation provides an extra level of protection, while offsetting the negative effects of fuel dilution
Delivers superior shear stability to withstand the intense stress and compression common to high-horsepower diesel trucks
May be used in any diesel engine calling for an API CK-4, CJ-4, CI-4+ or CH-4 diesel oil
*compared to the 3.5cP HTHS limit for SAE 15W-40
Not kept in stock at this time as it's a niche product. Call ahead and order and we'll have it here in 2-3 days or shipped to your door at the best price.