Signature Series 10W-30 Synthetic Motor Oil 
The Next Generation in Motor Oil Technology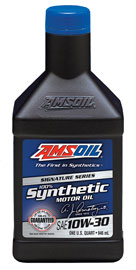 AMSOIL, the leader in automotive synthetic lubrication, produced the world?s first API-qualified synthetic motor oil in 1972. Trust the extensive experience of AMSOIL, the First in Synthetics®, to do the best job protecting your engine.
Protects Your Engine
AMSOIL Signature Series Synthetic Motor Oil provides outstanding anti-wear protection. It develops a strong fluid film that keeps metal surfaces separated while its robust anti-wear additives further reduce wear in metal-to-metal contact regions for maximum engine life. In the industry-standard Sequence IIIG Engine Test, AMSOIL Signature Series Synthetic Motor Oil delivered 75 percent more engine protection against horsepower loss and wear than required by a leading industry standard.** For details, see the Double-Length Sequence IIIG Engine Test Technical Study (G3320).
Check Price or Buy
Download Product Data Bulletin
Maximizes Fuel Economy
Signature Series Synthetic Motor Oil is designed to maximize energy efficiency for optimum fuel economy. Unlike conventional oils, its uniform molecular structure helps it flow more freely and reduce friction between metal surfaces. Anti-friction additives are included to further improve energy efficiency.
Extends Drain Intervals
AMSOIL Signature Series Synthetic Motor Oil can extend drain intervals far beyond those recommended for conventional oils. Its unique synthetic formulation and long-drain additive system are inherently stable to resist oxidation and neutralize acids over longer periods. Signature Series is designed to deliver outstanding engine protection, cleanliness and performance over extended drain intervals. It reduces vehicle maintenance and waste oil.
Vehicle Look-up: Match AMSOIL Products to your model
Keeps Pistons Clean
Excess piston deposits can lead to pre-ignition and engine knocking, which results in lost power, reduced fuel economy and, in severe cases, engine damage. Signature Series' premium additives and naturally high resistance to extreme heat help keep pistons clean for maximum engine performance. Signature Series prevents piston deposits 93 percent better than required to meet the latest API standard.**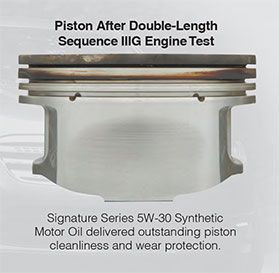 Excels in Extreme Temperatures
Signature Series resists thermal (heat) breakdown better than conventional and synthetic motor oils. It is heavily fortified with detergent and dispersant additives to help prevent sludge deposits and keep engines clean. Unlike conventional oils, Signature Series contains no wax, staying fluid in sub-zero temperatures for easier starting, improved oil flow and reduced wear.
Reduces Oil Consumption and Emissions
Volatility (burn-off) occurs when oil gets hot, causing high oil consumption and emissions. Signature Series resists volatility better than other oils, helping reduce oil consumption and emissions.
APPLICATIONS
AMSOIL Signature Series Synthetic Motor Oil is excellent for use in all types of gasoline-fueled passenger cars and light trucks. It is recommended for all domestic and foreign vehicles requiring any of the following performance specifications:
10W-30 (ATM): API SN (Resource Conserving), SM…; ILSAC GF-5, GF-4…; ACEA A5/B5, A1/B1; GM LL-A-025, 6094M, 4718M; Ford WSS-M2C205-A; Chrysler MS-6395
*All trademarked names and images are the property of their respective owners and may be registered marks in some countries. No affiliation or endorsement claim, express or implied, is made by their use. All products advertised here are AMSOIL-engineered for use in the applications shown.
COMPATIBILITY
AMSOIL Signature Series Synthetic Motor Oil is compatible with other conventional and synthetic motor oils. Mixing AMSOIL motor oils with other oils, however, will shorten the oil's life expectancy and reduce its performance benefits. AMSOIL does not support extended drain intervals where oils have been mixed.
Aftermarket oil additives are not recommended for use with AMSOIL synthetic motor oils.
SERVICE LIFE
Normal Service – Up to 25,000 miles, 700 hours of operation or one year, whichever comes first, in personal vehicles not operating under Severe Service.
Severe Service – Up to 15,000 miles, 700 hours of operation or one year, whichever comes first.
Severe Service: Primarily short trips (less than 10 miles [16 km]); turbo/supercharged engines; commercial or fleet vehicles; excessive idling; first-time use of AMSOIL motor oil in a vehicle with more than 100,000 miles; frequent towing, hauling, plowing or driving in dusty conditions.
Modified engines (non-stock) and those using E85 fuel are excluded from extended drain recommendations.
Change at the vehicle manufacturer's recommended drain interval outside U.S. and Canada.
AMSOIL Ea® Full-Flow Oil Filters are designed for extended change intervals. With other brands, do not exceed six months or 10,000 miles unless longer intervals are recommended by the vehicle manufacturer.
Check oil regularly to maintain proper fill levels.
AMSOIL Ea® Full-Flow Oil Filters are designed for extended change intervals. They stop smaller particles, flow more oil and last longer than regular filters. For best performance, use AMSOIL Ea Full-Flow Oil Filters.
Buy in the Sioux Falls AMSOIL store at 4610 W. 12th St. or use this Online link to the Amsoil sale page if you are outside of the area.
AMSOIL PRODUCT WARRANTY
AMSOIL products are backed by a Limited Liability Warranty. For complete information visit AMSOIL Warranty Information.
Keep Out of Reach of Children. Don't pollute. Return used oil to collection centers.
Customer Comments:
Great oil for the long haul.
By Mike 12/25/2016
from undisclosed
I use it in 2008 Taurus and a 2015 Ford Explorer. I've used it in the Taurus since 3000 miles and it now has 115,000 miles on it and have had no engine issues and still get 22 – 25 mpg. I bought the Explorer new and have used it since the first oil change and it now has 41000 miles on it. Love the oil ! I would recommend it to anyone looking for a high quality Synthetic motor oil.
Definitely will used this oil for the life of my ownership.
By Ray 1/4/2017
from undisclosed
The oil is advertized for extended oil change intervals, far more than the manufacturer recommendation. Following manufacturer change interval of 10K miles will ensure my engine and turbo will be protected by this oil.
Great product!
By Alan 12/21/2016
from undisclosed
I use it because the additive package is so robust, it can handle the severe service manner in which I use my Explorer. Combined with the Amsoil Oil Filter, I can go 15k miles or 1 year, even under severe-service use.