AMSOIL 10W-40 Synthetic Marine Engine Oil
For use in 4-stroke gasoline fueled engines in marine applications. Offers unsurpassed wear protection, viscosity stability, low volatility and excellent rust protection. NMMA FC-W approved and "warranty certified". For use in 4-stroke outboard and marine inboard engines. Also excellent for personal watercraft.
Makes OEM Marine oils Obsolete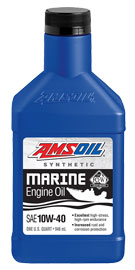 AMSOIL 10W-40 Synthetic Marine Engine Oil is a premium-quality synthetic formulation engineered for the harsh operating conditions of marine environments. It withstands the intense mechanical action of continuous, high-rpm operation to deliver superior viscosity protection. Synthetic Marine Engine Oil is specially fortified with a heavy treatment of advanced additives that protect motors against wear, rust and deposits. It excels in high-horsepower applications and all-day trolling conditions.
Product Code – WCF
Download Product Data Bulletin
Check Price or Buy
NMMA Certified 10W-40 Synthetic Marine
Synthetic Marine Engine Oil is certified by the National Marine Manufacturers Association (NMMA) for use in four-stroke outboard motors. This high-quality oil demonstrates outstanding performance and meets the NMMA FC-W Catalyst Compatible specification requirements.
NMMA Registration: 10W-40 – FC-W (CAT)® Registration Number: FC-00850T
Superior Protection Against Engine Wear
Marine engines operate under high loads and rpm for extended periods of time, causing traditional automotive oils to break down and lose viscosity. To ensure protection and long-term durability, the NMMA introduced the FC-W Catalyst Compatible standard, which is backward-compatible with the recognized requirements of the FC-W standard. AMSOIL Synthetic Marine Engine Oil meets the FC-W and FC-W Catalyst Compatible shear stability requirements, outperforming competitive oils to deliver a superior lubricating film. Formula 4-Stroke Synthetic Oil contains robust anti-wear additives that further reduce wear in metal-to-metal contact regions.
Vehicle Look-up: Match AMSOIL Products to your model
Excellent Anti-Rust Performance
Marine engines are prone to rust, leading to uncontrolled wear and premature engine failure. Good rust protection is not natural to motor oil; it comes only by design. This 10W-40 Synthetic Marine Engine Oil is fortified with a special anti-rust agent, even more than required to pass stringent NMMA FC-W and FC-W Catalyst Compatible anti-rust testing.
APPLICATIONS Of 10W-40 Synthetic Marine
AMSOIL Synthetic Marine Engine Oil is recommended for gasoline-fueled four-stroke outboard, inboard, inboard/outboard (I/O) and personal watercraft motors. Use the appropriate viscosity grade where specified in the following:
Honda®, Mercury®, Yamaha®, Johnson®/Evinrude®, Bombardier/BRP®, Suzuki®, Nissan®, Tohatsu®, OMC®, Volvo Penta®, Mercruiser®, Chevrolet®, Ford®
NMMA FC-W Catalyst Compatible • API SM
Service Life of the 10W-40 Marine Oil
Four-stroke outboard motors and personal watercraft applications: Due to potential fuel dilution or water contamination, change oil at the engine or watercraft manufacturer-recommended interval.
Inboard and I/O applications: Change oil at two times the engine manufacturer recommended interval or one year, whichever comes first.
Compatibility of our 10W-40 Marine Oil
AMSOIL 10W-40  Synthetic Marine Engine Oil is compatible with conventional and synthetic motor oils. Mixing AMSOIL motor oils with other oils, however, will shorten the oil's life expectancy and reduce the performance benefits. AMSOIL does not support extended drain intervals where oils have been mixed.
Aftermarket oil additives are not recommended for use with AMSOIL motor oils.
AMSOIL Marine Product Warranty 
AMSOIL products are backed by a Limited Liability Warranty. For complete information visit AMSOIL Warranty Information.
Buy in the Sioux Falls AMSOIL store off of Exit 73. or use this Online link to the Amsoil sale page if you are outside of the area.
Reviews of Marine 10W-40
Unexpected Benefits
By  Jeff,  a  Verified Buyer  from  Wisconsin  on  October 03, 2023
We have a 23 ft Chapparal with a Chevy 454 and a Mercruiser Bravo3 outdrive. The 454 has 750 hours and runs as smooth as silk. The Amsoil 10W40 Marine is very special. The throttle response is incredible and the consumption of fuel is minimal. Considering this is a Chevy / Mercruiser454 I expected this boat to be a gas guzzler. The Mercruiser 7.4 liter has multi port fuel injection and is far more efficient than the Chevy 350 Mercruiser. Using Amsoil synthetic has made a tremendous difference. We cruise our boat on Lake Geneva in southern Wisconsin, and can circle the 25 to 26 miles around the lake using a little more than 5 gallons of fuel. The previous owner was somewhat cheap and used 10W40 conventional oil. He got about 3 mpg and refused to believe the difference I got using Amsoil. My fuel savings over the course of the Summer paid for the 6 qts of of Amsoil 3 times over using conventional oil. This is a clear cut example of cost versus price. I can actually say that the Amsoil literally paid for itself over lower priced conventional oil.
Pefrect Oil
By  JEFF,  a  Verified Buyer  from  Florida Keys  on  July 09, 2023
For the same price as conventional Yamalube, I'm running what has always been considered the gold standard of oils. My boat feels quicker, it *is* more fuel efficient, and after 50 hours it still looks brand new. I'm sold.
Yamaha SHO Oil
By  MICHAEL,  a  Verified Buyer  from  NJ  on  November 01, 2022
Have used the Amsoil marine products in my last two Yamaha SHO outboards (150 and 225). The oil shows minimal discoloration and wear even after a full season on the water, in addition it meets all of Yamaha's standards for oil per their manual. My boat is used from March to Nov and I never worry about drastic cold or hot temps impacting engine performance when running Amsoil.
Great oil
By  PHILLIP,  a  Verified Buyer  on  November 03, 2022
Great oil, picked up an extra 2 mph on my Suzuki DF90. Synthetic is the way to go in outboards especially if you operate in saltwater. Motor was super quiet and ran smooth.