10W-40 Synthetic ATV/UTV Engine Oil 
We are quickly becoming Sioux Falls's ATV & UTV oil headquarters. The OEM products are run of the mill and don't offer top performance and no data on long term protection. But you the rider can tell. Less vibration, smoother operation, better performance, easier starts and hands down legendary claim to longer engine, transmission and drivetrain life.  The Sioux Falls AMSOIL Dealer – Synthetic Warehouse has all of these in stock all the time.
AMSOIL Synthetic ATV/UTV Motor Oil is formulated to deliver upgraded performance for hard-working and performance ATVs and UTVs. Its outstanding severe-service formulation allows riders to confidently and safely push their machines to the limit, whether tackling tough chores around their property or riding aggressively on the trail.
Delivers Upgraded Performance & Protection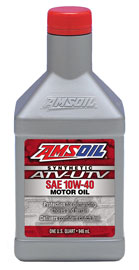 AMSOIL synthetic technology protects hot, high-revving engines against wear. AMSOIL Synthetic 10W-40 ATV/UTV Motor Oil is Warranty Secure™ and will not void your ATV or UTV warranty. It is a cost-effective, high-performance alternative to original equipment manufacturer (OEM) fluids.
Download Product Data Bulletin
Severe-Service Engine Protection
Many enthusiasts modify their ATVs or UTVs with roof and door panels, skid plates, a winch, a plow or other accessories that add weight and increase the severity of operation. Aggressive riding and tackling tough terrain place additional stress on the engine. Increased heat generated during severe-duty operation causes oils designed for standard service to break down sooner, increasing the risk for wear. AMSOIL Synthetic ATV/UTV Motor Oil's synthetic technology delivers reserve protection against heat. It provides reliable wear protection and aids in cooling shrouded engines.
Check Price or Buy
Confidence in Clutch Feel
AMSOIL 10W-40 Synthetic ATV/UTV Motor Oil's superior friction-durability properties help minimize clutch slippage, fade and chatter, giving riders consistent clutch feel during takeoffs or when maneuvering around obstacles on the trail. It delivers confidence that ATVs will perform consistently in all types of riding conditions
Wet-Clutch Compatible
AMSOIL Synthetic 10W-40  ATV/UTV Motor Oil contains no friction modifiers and promotes smooth shifting and positive clutch engagement. It controls heat and helps improve clutch life.
RACING IS RESEARCH™
AMSOIL Synthetic ATV/UTV Motor Oil underwent on-track testing in the ATVs and UTVs of AMSOIL-sponsored professional riders in the AMSOIL GNCC Series. It is fine-tuned for outstanding wear protection and consistent clutch feel.
Protection for demanding chores and terrain
Delivers consistent clutch feel
Superior all-weather performance
Wet-clutch compatible
Vehicle Look-up: Match AMSOIL Products to your model
APPLICATIONS
AMSOIL 10W-40 Synthetic ATV/UTV Motor Oil is recommended for use in ATVs and UTVs that require a 10W-40 motor oil, including those made by Polaris, Kawasaki®, Suzuki®, Can-Am®, Honda®, Yamaha®, Kubota® and John Deere®.
SERVICE LIFE
Follow the original equipment manufacturer's oil change recommendation.
Buy in the AMSOIL store at 4610 W. 12th St. or use this Online link to the 10W40 sales page if you are outside of the area.
WARRANTY SECURE™
AMSOIL Synthetic ATV/UTV Motor Oil is Warranty Secure™, keeping your factory warranty intact. AMSOIL Synthetic ATV/UTV Motor Oil is a high-performance replacement for vehicle manufacturer-branded products and is also backed by the AMSOIL Limited Warranty (G1363). For details, visit AMSOIL Warranty Information.