100% Synthetic Firearm Lubricant and Protectant
Although a new product for AMSOIL, it's become of the best sellers in the Sioux Falls store!! We sell a lot of cases and singles to almost every customer. AMSOIL took several years to develop this one so that it would be the talk of the market  – gun owners across the region. Pick up a bottle today and see how better firearms fire in all temperatures and protect them from long term rust and corrosion.
Protection and Dependability for Generations
The moving parts on firearms (actions, bolts, hinges) must be cleaned and lubricated to ensure top performance and long life. AMSOIL Synthetic Firearm Lubricant presents premium upgrades over all-in-one products, which sacrifice performance in at least one area in the name of convenience.
***FLPSC (5oz Aerosol) NOT AVAILABLE IN CANADA
Dependable Firearm Performance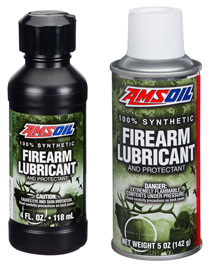 Hunters and recreational shooters need their guns to perform when called upon, sometimes after an extended period of storage, after sitting for hours in a wet duck blind or while on a remote hunting trip with few opportunities to clean their gun daily. Since nothing will ruin a hunting trip or day at the range quicker than a malfunctioning firearm, AMSOIL firearm products were tested in a variety of firearms typically found at the range and in the field. The information gathered, along with extensive testing in the AMSOIL chemical lab, resulted in products dialed in for outstanding firearm protection in the most demanding conditions. As seen in the images, AMSOIL firearm products guard against damaging corrosion, helping keep firearms working properly for generations.
Download Product Data Bulletin
Check Price or Buy
Applications
Safe to use on all metals, woods, composites and rubbers found in firearms.


AMSOIL Synthetic Firearm Lubricant (FLPBA)
Effectively lubricates and protects firearms, helping extend life and prevent blockage, jams and wear
Outstanding protection and performance in both hot and cold climates
Specifically formulated for firearms, offering superior performance
DIRECTIONS
Ensure firearm is unloaded.
Shake well prior to use.
Clean firearm prior to lubricant application per manufacturer's recommendations.
Apply evenly to all metal parts such as barrels, bolts, firing pins, springs and trigger mechanisms.
Apply a thin layer to exterior surfaces of firearm.
AMSOIL PRODUCT AVAILABILITY
AMSOIL Synthetic Firearm Lubricant is available in 4-ounce bottles and 12 bottle cases.
AMSOIL PRODUCT WARRANTY
AMSOIL products are backed by a Limited Liability Warranty. For complete information visit AMSOIL Warranty Information.
Buy in the Sioux Falls AMSOIL store at 4610 W. 12th St. or use this Online link to the Amsoil sale page if you are outside of the area.