AMSOIL 5W-20 100% Synthetic High-Mileage Motor Oil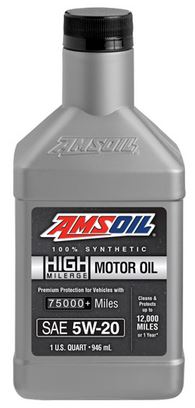 Preventive maintenance that includes high-quality lubricants is key for keeping vehicles safe and dependable for the long haul. AMSOIL 5W-20  100% Synthetic High-Mileage Motor Oil is designed specifically for the unique demands of high-mileage engines (or engines which have been using oils which left deposits), helping extend the life of your vehicle.
This is the first step to help clean up that engine w/o needing to use an engine flush.
It delivers purpose-built protection at a time in your vehicle's life where it could benefit from more-robust maintenance. It cleans and protects engines with boosted detergency and an additive package that fights oil breakdown and oil leaks.
I suggest a couple changes with this oil then switch to XL or Signature.  This is a great choice should you buy a used car with over 150K on the odometer or that vehicle you really don't know the history.
LOWER Cost than the XL Line!!
See the Product Data Bulletin for full details.
Check Price or Buy
Product code : HM520QT-EA
Buy in the Sioux Falls AMSOIL store at 47073 98th St (Exit 73 near TEA) or use this Online link to the Amsoil sale page if you are outside of the area.
Engine Cleanliness thanks to our High Mileage Oil Line
Enhanced detergency to breathe new life into dirty engines.
Removes deposit buildup to help restore peak performance.
Cleaning Requires a Durable Viscosity
High Mileage 5W-20 Maintains proper film thickness in extreme operation.
Oil-Consumption Control
Thermally stable across a wide range of temperatures.
Resists volatility and oil consumption.
Leak Protection! Yes – no other competitor uses a QUALITY additive for this because it eats profits
High Mileage 5W-20 Conditions seals to help prevent leaks. – Even the Signature Series is famous for reduced leaks
API Licensed so you don't have to be worried about whatever
Licensed by the American Petroleum Institute (API) to meet and exceed requirements commonly found in owner's manuals.
Motor Oil Comparison Chart – Compare the purpose of AMSOIL Products for your best choice.
In Review 5W-20 High Mileage Synthetic:
Unique chemistry for vehicles with over 75,000 miles
Boosted detergent and dispersant package
Enhanced anti-wear additives
Reduced sludge by 67%,VV demonstrating cleaning power that helps engines last longer and perform better
Guaranteed Protection For 12,000 Miles/1-Year1
API Licensed