OE 10W-30 Synthetic Motor Oil
Formulated for Excellent Engine Protection and Performance
You can be Thrifty AND add life to your favorite commuter!
Sioux Falls Note: Many pass by the store thinking AMSOIL is either too expensive or a product for picky car nuts. Well AMSOIL was aware of this and also wanted a product that would have no objections to being stocked in your average autoparts store and lube center. So the OE satisfies the old price objection yet offers a product better than our competition's version which sells for about $1 more per quart.  It's also API certified! So pick the OE product line for the car you don't feel the need to invest more hard earned $ into but at the same cost for an average oil change AMSOIL now gives you the option to add live, performance and perhaps up the MPG's!!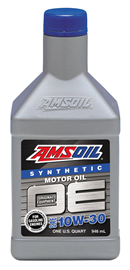 AMSOIL OE Synthetic Motor Oil helps provide better wear control, improved high- and low-temperature protection and increased fuel economy compared to conventional oils. The oil drain interval recommendations for many of today's vehicles extend well beyond the traditional 3,000-mile interval, especially when electronic oil monitoring systems are used. AMSOIL OE Oil provides excellent protection and performance for the entire length of the original equipment manufacturer's recommended drain interval.
AMSOIL, the leader in automotive synthetic lubrication, produced the world's first API-qualified synthetic motor oil in 1972. Trust the extensive experience of AMSOIL, The First in Synthetics®, to do the best job protecting your engine.
Download Product Data Bulletin
Buy in the Sioux Falls AMSOIL store at 4610 W. 12th St. or use this Online link to the Amsoil sale page if you are outside of the area.
Improves Fuel Economy
Formulated with friction modifiers, AMSOIL OE Synthetic Motor Oil is a fuel-efficient oil that reduces friction-related energy loss. It provides better fuel economy compared to conventional, non-fuel-efficient motor oils.
Maintains Low Emissions
AMSOIL OE Synthetic Motor Oil is friendly toward modern emissions-control systems, promoting proper operation of catalytic converters for optimum service life and low exhaust emissions.
Protects in All Temperatures
AMSOIL OE Synthetic Motor Oil is a multi-viscosity formulation. It resists the effects of thermal breakdown, including evaporation and viscosity loss, while remaining fluid in cold temperatures for easier cold starts and fast startup circulation.
Keeps Engines Clean
Fortified with high levels of detergent and dispersant additives, AMSOIL OE Synthetic Motor Oil is engineered to resist sludge and carbon deposits better than conventional oils. It promotes clean operation for longer-lasting, better-running engines.
Bid Appropriate
AMSOIL OE Synthetic Motor Oil fulfills the requirements of most public and private purchasing bids. It is cost-effective, making it ideal where synthetic motor oil is specified.
APPLICATIONS
AMSOIL OE Synthetic Motor Oil is excellent for use in all types of gasoline-fueled vehicles. It is recommended for all domestic and foreign vehicles requiring any of the listed performance specifications:
10W-30 (OET)
API SN (Resource Conserving), SM…
ILSAC GF-5, GF-4…
GM 6094M, 4718M
Chrysler MS-6395
COMPATIBILITY
AMSOIL OE Synthetic Motor Oil is compatible with conventional and other synthetic motor oils. Mixing AMSOIL OE Synthetic Motor Oil with other oils, however, will shorten the oil life expectancy and reduce the performance benefits. Aftermarket oil additives are not recommended for use with AMSOIL OE Synthetic Motor Oil.
SERVICE LIFE
In gasoline-fueled vehicles, AMSOIL OE Synthetic Motor Oil is recommended for the intervals stated by the vehicle manufacturer or indicated by the oil life monitoring system. Change oil filter at every oil change.
For warranty information, visit AMSOIL Warranty Information
Customer Comments:
Everything Amsoil
By Joe HEMI 9/1/2016
from Iselin NJ
I've used XL oil for years because of the miles I put on my truck, even the shop is amazed at the engines condition after 150K, so I started with OE on my wife's suv with 120K miles & it seems to run smoother then ever.
Was this a gift?:
No
How would you describe yourself?:
I'm a DIY handyman
What kind of vehicle/equipment do you have?:
Dodge 1500 & Jeep Grand Cherokee
Bottom Line
Yes, I would recommend this to a friend