Silicone Spray
Lubricates and Protects Nonmetal Surfaces
A local favorite on camping gear and fabrics used in the outdoors.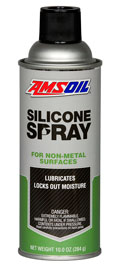 AMSOIL Silicone Spray protects with a dry lubricating film ideal for surfaces that may be damaged by conventional lubricants such as grease or oil. AMSOIL Silicone Spray also helps prevent the cracking and drying of rubber and locks out moisture. It will not attract dust or dirt, keeping applications contaminant-free.
AMSOIL Silicone Spray provides outstanding lubrication protection for rubber, nylon, plastics, upholstery, vinyl, wood, cardboard, fiberglass and other nonmetal surfaces.
AMSOIL Silicone Spray features a special nonstaining formula, making it excellent for waterproofing leather boots, shoes, jackets, suede and more. For leather and sensitive surfaces, initially apply to a small area. Silicone Spray will not damage leather but may slightly alter the color or hue.
Formulated for use on nonmetal surfaces (and metal surfaces that come in contact with nonmetal surfaces)
Leaves a clear, odorless, nonstaining film
Helps prevent rubber cracking and drying
Locks out water
Download Product Data Bulletin
Check Price or Buy
Buy in the Sioux Falls AMSOIL store at 4610 W. 12th St. or use this Online link to the Amsoil sale page if you are outside of the area.