Cummins 5.0/5.9/6.7L Single-Remote Bypass System BMK-34
A dual kit is not available for these engines but the BMK-21 can be used on pre 2002 engines.
This is really the simplest lit of all.  I do keep them in stock here in Sioux Falls. I sell quite a few of these kits. They are excellent and really a needed product for all diesels.
LEARN MORE ABOUT BYPASS FILTRATION
BMK34 Installation and Servicing Instructions
PRODUCT DESCRIPTION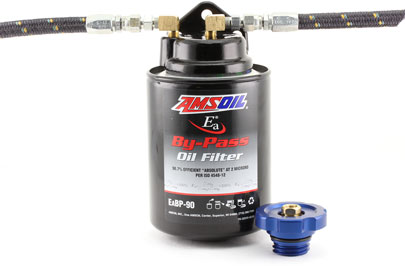 The Ea Bypass Oil Filter (EaBP) provides the best possible filtration protection against wear and oil degradation. Working in conjunction with the engine's full-flow oil filter, the AMSOIL Ea Bypass Filter operates by filtering oil on a "partial-flow" basis. It draws approximately 10 percent of the oil pump's capacity at any one time and traps the extremely small, wear-causing contaminants that fullflow filters can't remove. The AMSOIL Ea Bypass Filter typically filters all the oil in the system several times an hour, so the engine continuously receives analytically clean oil.
*Notice: System does not include oil filter adapter. Check top of full-flow oil filter housing for two plugs. System includes fitting options to replace one plug. If both plugs are not accessible, order optional part BK1104. See BMK34 Installation and Servicing Instructions below for more information.
*Please call (800) 956-5695 M-F, 7 a.m.-7 p.m. Central to order the optional aluminum filter adapter (BK1104). Local Sioux Falls call 605-274-2580
Check Price or Buy
Buy in the Sioux Falls store at 4610 W. 12th St.  or use this Online link to the Amsoil sale page if you are outside of the area.