Gasoline Stabilizer
Extended Seasonal Gasoline Storage
Helps keep fuel fresh for up to 12 months. Fights oxidation to prevent the formation of varnish and sludge and keep floats and injectors clean for optimal engine performance. Ideal for stored seasonal equipment such as snowmobiles, lawnmowers, motorcycles and boats. Eases starting process when equipment is taken out of storage.
Too often we forget to treat the fuel as we put away our toys and equipment. Poor performance is too common now with fuel which degrades faster than ever. Don't take chances! I personally have regretted not using this in the past in a vintage motorcycle, new weed-eaters and projects I'm working on which don't get started as frequently as they should.
Pay now or pay more later!!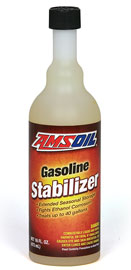 For maximum convenience and cost-effectiveness, equipment and vehicles used seasonally, such as motorcycles, snowmobiles, personal watercraft, snowblowers, outboard motors and classic cars, need to start easily and run properly when removed from storage. Gasoline, however, is not formulated for long-term storage and can start to degrade in as little as 30 days. Degraded fuel leads to varnish and sludge that clog injectors, fuel lines and carburetors; stick floats; and cause poor engine performance, starting problems, increased maintenance expenses and decreased equipment life.
AMSOIL Gasoline Stabilizer (AST) inhibits the oxidation process that occurs when fuel is stored for extended periods, improving performance, extending equipment life and decreasing maintenance expenses.
Check Price or Buy
Call 800-579-0580 for competitive current price.
Or use the online preferred customer portal if you choose to order online.
Printable Product Data Sheet for Gasoline Stabilizer.
AMSOIL Gasoline Stabilizer provides corrosion protection Sea Foam can't match, helping maintain power and performance and keeping metal looking like new even when subjected to salt water.*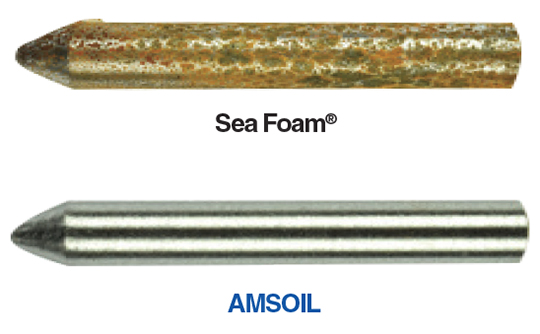 Improves Stability
AMSOIL provides fuel stability that Sea Foam Motor Treatment® can't match, helping maintain startability and protect against the formation of varnish and gum.Z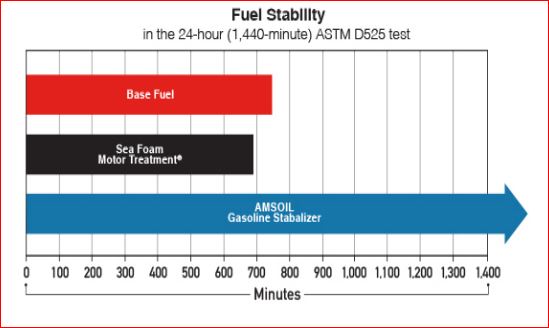 Delivers Confidence
Treating fuel with AMSOIL Gasoline Stabilizer prior to storing equipment provides confidence. It offers peace of mind that equipment will not only start when it is needed, but will also perform properly.
Eliminates Need to Drain Fuel
Draining fuel from equipment can not only be difficult, it invites corrosion on the bare metal in the tank and drying and cracking of gaskets and seals. Some fuels are pre-treated with oxidation inhibitors that allow them to be stored for short periods without forming excessive deposits, while other fuels have no inhibitors at all. AMSOIL Gasoline Stabilizer eliminates the need to drain fuel from equipment before long-term storage. It fights fuel deterioration, severely limiting the formation of damaging varnish and deposits to help extend equipment life.
Decreases Maintenance
Deposits, varnish and sludge that form from degraded fuel can cause important components in the fuel system to become clogged or stuck and require thorough cleaning or replacement. AMSOIL Gasoline Stabilizer helps reduce maintenance time and costs by preventing harmful deposits from forming in the tank and fuel system, eliminating the need to clean or replace carburetors after long-term storage.
Helps keep fuel from deteriorating
Protects against varnish and gum buildup
Fights ethanol corrosion
*Based upon independent testing of AMSOIL Gasoline Stabilizer obtained Nov. 8, 2018 and Sea Foam Motor Treatment purchased Oct. 25, 2018 in a modified NACE TM0172 using synthetic sea water per ASTM D665 part B.
zBased on independent testing of AMSOIL Gasoline Stabilizer obtained Nov. 8, 2018 and Sea Foam Motor Treatment® purchased Oct. 25, 2018 in the ASTM D525 using test fuel containing no  oxidation-stability improving additives.
APPLICATIONS
AMSOIL Gasoline Stabilizer is engineered for use in, but not limited to, motorcycles, snowmobiles, ATVs, UTVs, outboard motors, stern-drive and inboard marine engines, personal watercraft, lawn equipment, chainsaws, snowblowers, portable generators, handheld power equipment, motor scooters, powered farm equipment, powered construction equipment, cars and trucks.
Dosage recommendation
One ounce of AMSOIL Gasoline Stabilizer treats 2.5 gallons of fuel, including fuel that contains up to 10 percent ethanol.
Before storing equipment, treat it with the appropriate dose of AMSOIL Gasoline Stabilizer. Let the engine run for five to 10 minutes to thoroughly circulate the additive through the fuel system. Stop the engine and store the equipment in a dry, covered location.
Buy at Stan Houston's or at the Sioux Falls AMSOIL store at Exit 73 (behind Marlins). or use this Online link to the Amsoil sale page if you are outside of the area.
AMSOIL PRODUCT WARRANTY
AMSOIL products are backed by a Limited Liability Warranty. For complete information visit AMSOIL Warranty Information
---
Reviews
By  Wrick,  a  Verified Buyer  from  Va  on  March 09, 2019
Doing what it's supposed to be ,happy customer
By  Hollywood,  a  Verified Buyer  from  Ontario, Canada  on  February 04, 2019
Great stuff, use on all of our small engines
By  Indian Ryder,  a  Verified Buyer  from  Ardmore AL  on  January 18, 2019
Excellent product like all others this company provides
High protection
By  Falcon,  a  Verified Buyer  from  Coatesville,Pa.  on  January 03, 2019
Again, I use this in all my equipment. Fuel lasts much longer than other brands with this Stabaliser.
This product truly works. Made MPG go up
By  Jim,  a  Verified Buyer  from  Knoxville  on  December 12, 2018
I followed the directions on the bottle, and it made the MPG go up about 3 !! From about 11.5 to about 14ish! I was amazed. This stuff really worked for my hot rod Hemi !!
Very good product
By  Cliff,  a  Verified Buyer  from  Decorah, Iowa  on  November 28, 2018
Using the store bought brands in the past, I always had trouble getting my 2 cycle motors to run in the spring. Since Iv'e used AMSOIL gas stabilizer, everything starts and runs well.
Ajax Ontario
By  Hammy,  a  Verified Buyer  from  Ajax Ontario  on  November 04, 2018
I use this product in my zero turn John Deere lawn tractor it improve start up's . I also use it for all my other lawn equipment it makes a big difference overall and performance I will continue to use it. 
The best product around
By  Santa North Pole,  a  Verified Buyer  from  Somerset Wisconsin  on  June 20, 2018
I use this and all my toys car truck you name it I use it.
Stabilize
By  Mix,  a  Verified Buyer  from  Boston  on  June 02, 2018
Lawn tractor snowblower weedwacker push mower chainsaw generator. Keeping everything working
I would buy this again
By  Tom,  a  Verified Buyer  from  New York  on  February 08, 2018
I have used this before it does what is says .
Would buy this again
By  Mattamer,  a  Verified Buyer  from  Millboro Va  on  January 28, 2018
Put this in all my machines over the winter
I would buy this product again
By  John R.,  a  Verified Buyer  from  Toronto, ON  on  December 27, 2017
Use it for winter storage for Watercraft, Boats, Small engines ( tractor, lawnmower, blowers and trimmers) and summer storage for snow blower and tiller. Over all it works great.
Works well
By  MultiplicitySteve,  a  Verified Buyer  from  Medicine Hat, Alberta  on  December 19, 2017
Does what it says it does.
I will buy again
By  Bill R,  a  Verified Buyer  from  PA  on  November 30, 2017
Alway use great products
Stabilizer
By  BAC,  a  Verified Buyer  from  Connecticut  on  November 29, 2017
Use it for the winter in my fuel to treat all my lawn/driveway equipment (mowers, blowers, snow blowers, line trimmers). Also use it on my Yamaha FJR 1300 motorcycle and I have not had any problems.
Good stuff would by again
By  Kyle,  a  Verified Buyer  from  Wildwood Fl  on  July 16, 2017
You just dump it in the gas tank and don't have to worry about gas going bad.
Works just as expected
By  wtrbxr,  a  Verified Buyer  from  Phoenix, AZ  on  May 19, 2017
This product performs just as described.
Great Stuff
By  Moe,  a  Verified Buyer  from  San Antonio texas  on  May 18, 2017
Great product never lets me down