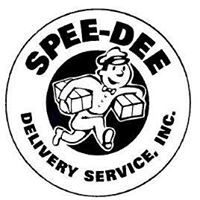 Thanks to Speedee Delivery convenient and low priced service, we have attracted a lot of out of state orders who want to get orders faster, and save even more money. Most places are next day and some 2 to 3 day.   If you are in Nebraska, Minnesota, Iowa, North Dakota, Wisconsin, Illinois and the St. Louis areas of Missouri you win!! Of course we ship within our state of South Dakota too.
We drop off daily to the Speedee Delivery distribution center so you get your order fast.   We use AMSOIL's UPS rates for all other states unless you are ordering lightweight products such as air and oil filters and Bypass Oil Filter kits. When ordering these items even as far as Florida you save.
Call 605-274-2580 to reach us  during normal business hours.
If you are not familiar with the Speedee Delivery please have a look at their website.