10W-30 Synthetic Small Engine Oil
Formulated to outperform passenger-car/light-truck oils, AMSOIL Synthetic Small-Engine Oil protects against wear, deposits and oil consumption in over-worked, under-maintained small engines professionals rely on to make a living.
It's a top 5 best seller in the Sioux Falls store!!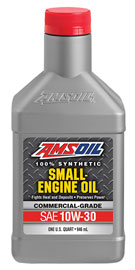 Engine dependability is vital to running a profitable business, yet most small-engine oils we've tested are nothing more than re-labeled automotive oils, which are formulated with fuel economy in mind, not durability. That won't cut it. Compared to liquid-cooled automotive engines, small engines run hotter; operate under constant load; generate more oil-damaging contaminants; suffer from neglected maintenance and are exposed to dirt, rain, snow and other extremes. Simply put, they're far tougher on oil that most people think.
AMSOIL Synthetic Small Engine Oil isn't merely a re-badged automotive oil. Instead, we designed it from the ground up specifically for small-engine dependability. You can rest assured your engines are protected even during periods of extended use when there's no time for scheduled maintenance. It's built to solve the problems that plague small engines, including wear, power loss, oil consumption, stuck rings and valves, and harmful carbon deposits. It helps landscapers, contractors and other professionals get more work done and save money.
Product Code: ASE
Check Price or Buy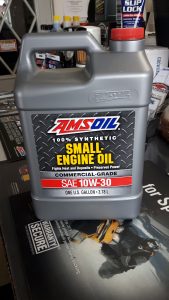 Fights Power Loss
Continuous severe-service operation accelerates wear and leads to harmful deposits that can stick rings and valves, robbing the engine of power. Power loss means less productivity and more maintenance. Synthetic Small-Engine Oil is a tough synthetic oil chemically engineered with anti-wear additives and heat-resistant anti-oxidants that protect pistons and bearings. After 500 hours of severe-service lab testing, AMSOIL 10W-30 Synthetic Small-Engine Oil virtually eliminated wear and deposits, helping preserve engine power and ensure productivity (see image).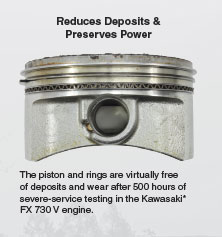 Reduces Oil Consumption
Commercial-grade small engines run hot, with oil temperatures reaching 250ºF and higher. High heat causes standard-service oils to vaporize and exit the crankcase vent, leading to increased oil consumption. Heat also breaks down oil and forms deposits that lead to piston-ring sticking. Stuck rings fail to seal the combustion chamber and keep oil from entering and burning. As a result, workers must diligently check and top-off the oil to ensure the engine is protected, wasting time and money. AMSOIL Synthetic Small-Engine Oil's heat-stable synthetic base oils withstand extreme heat better than other oils. In lab testing 10W-30 Synthetic Small-Engine Oil reduced oil consumption 61 percent compared to three leading 10W-30/SAE 30 motor oils**. It keeps engines clean for peak efficiency and reduced maintenance.
Vehicle Look-up: Match AMSOIL Products to your model
Long Service Life
On busy job sites, equipment maintenance can easily be delayed or overlooked completely. If using standard-service motor oils, high rates of oil consumption can leave the engine unprotected for extended periods, and it's only a matter of time before catastrophic wear sets in. AMSOIL Synthetic Small-Engine Oil lasts longer than conventional oil, providing peace of mind that engines are protected, even when maintenance is delayed.
Preserves engine power
Helps cut maintenance costs
Fights heat and deposits
Applications and Recommendations
Use the appropriate viscosity of Synthetic Small-Engine Oil in applications that require any of the following specifications:
API SL, SJ, SH, SG…(Gasoline)
API CD, CF (Diesel)
JASO MA/MA2, (Wet Clutch)
Use 10W-30 Synthetic Small-Engine Oil in small engines found in (not limited to) mowers (zero-turn, riding, stand-on, push), generators, power washers and other equipment that requires SAE 30, 5W-30 or 10W-30 motor oil, including those made by Briggs & Stratton®, Honda®, Kubota®, Kawasaki®, Kohler®, Tecumseh®, Robin®, Onan®, Wisconsin®, Powertrain®, Yanmar®, Linamar® and Vanguard®.
Equipment types include maintenance equipment, tractors, lawn and garden equipment, compactors, pumps, light towers, log splitters, welders, cement mixers and trowels, skid-steers, excavators, rototillers and compressors.
COMPATIBILITY
AMSOIL Synthetic Small-Engine Oil is compatible with other conventional and synthetic motor oils. Mixing AMSOIL motor oils with other oils, however, will shorten the oil's life expectancy and reduce the performance benefits.
Aftermarket oil additives are not recommended for use with AMSOIL motor oils.
SERVICE LIFE
AMSOIL Synthetic Small-Engine Oil is a long-life formulation that can last longer than conventional petroleum oils. It provides an extra measure of protection when equipment typically goes longer between oil changes than is recommended by the equipment manufacturer. Due to wide variances in operating conditions and maintenance practices, AMSOIL recommends extending drain intervals when monitored by oil analysis or following the equipment manufacturer-established drain intervals.
AMSOIL PRODUCT WARRANTY
AMSOIL products are backed by a Limited Liability Warranty. For complete information visit AMSOIL Warranty Information.
HEALTH & SAFETY
This product is not expected to cause health concerns when used for the intended applications and according to the recommendations in the Safety Data Sheet (SDS). An SDS is available via the Internet at www.amsoil.com or upon request at (715) 392-7101. Keep Out of Reach of Children. Recycle used oil and bottle.
* All trademarked names and images are the property of their respective owners and may be registered marks in some countries. No affiliation or endorsement claim, express or implied, is made by their use. All products advertised here are developed by AMSOIL for use in the applications shown.
** Based on 125-hour lab tests of small engines using AMSOIL 10W-30 Commercial-Grade Synthetic Small engine Oil and three leading 10W-30/SAE 30 motor oils.
Buy in the Sioux Falls store at 47073 98th St.
Also at Stan Houston's
or use this Online link to the Amsoil sale page if you are outside of the area.
Customer Comments:
Formula 4 stroke engine oil
By Stephan 12/30/2016
from undisclosed
I have been using Amsoil for years and wouldn't trust another. I use Amsoil in everything with great results, so I thought I would use the 4 stroke oil in all my small engines. Glad I did!!! No oil consumption, the engines run smoother and sound stronger. The 4 stroke oil even brought back an old decommissioned generator that was smoking to working condition. Amsoil does an amazing job again!
The 4-stroke oil is definitely superior
By Keith 12/26/2016
from undisclosed
I use this oil in my mowers, generator, and all of my small 4-stroke engines. I have been using it for about 2 years now and am amazed with the reduced oil consumption, and how clean looking the oil is after summer long intervals, unlike conventional oil that turns sooty black.
Exceptional Product!!!
By John 12/23/2016
from undisclosed
I have a Briggs and Stratton push mower and use only Formula 4 Stroke Small Engine Oil it. The old boy has never let me down and at 15 years old still fires up on the first pull. I change the oil only once a year and it does not burn oil and keeps on ticking. Thank you Amsoil for making such a superior product. I also use the Formula 4 Stroke Small Engine Oil in all of my small engines, to include snowblower, riding John Deere Mower and generator. After this product has proven itself time and time again I will use nothing else. This stuff is the BEST hands down.
---
Lawnmower Won't Start? Do this.
A lawnmower that won't start, especially when taken from storage, is almost always due to one problem: bad gas.
Storing a lawnmower in the fall without adding gasoline stabilizer to the fuel tank can cause the fuel to break down and plug the fuel passages. If fixing that problem doesn't help, there are a few other common maintenance practices to try, as we explain below.
Here's what to do when your lawnmower won't start
Replace the gas
Over time (like the six months your lawnmower sat in your garage over the winter), the lighter hydrocarbons in gas can evaporate. This process creates gums and varnish that dirty the carburetor, plug fuel passages and prevent gas from flowing into the combustion chamber.
The carburetor bowl below formed corrosion and deposits during storage, which can easily plug fuel passages and prevent the engine from starting.
Ethanol-containing gas can absorb water from the atmosphere, which can lead to phase separation, which occurs when ethanol and gas separate, much like oil and water. Ethanol that has absorbed enough moisture and has sat long enough can foul the fuel system and prevent the engine from starting.
No matter how many times you yank the starter cord and pollute the air with your advanced vocabulary, the lawnmower won't start if it isn't getting gas.
In extreme cases, evaporation of lighter hydrocarbons can change the gasoline's composition enough to prevent it from igniting. The gas may be fueling the engine, but it doesn't matter if it won't ignite.
If you neglected to add gasoline stabilizer to the fuel prior to storage, empty the tank and replace with fresh gas. If the tank is nearly empty, simply topping off with fresh gas is often enough to get it started.
On some mowers, you can easily remove and empty the fuel tank. Sometimes that's more trouble than it's worth. In these cases, use a fluid extraction pump or even a turkey baster. (We keep them in the Sioux Falls location also)
Clean the carburetor
You've replaced the fuel, but your lawnmower still won't start.
Next, try cleaning the carburetor. Remove the air filter and spray carburetor cleaner into the intake. Let it sit for several minutes to help loosen and dissolve varnish and gums.
On some carburetors, you can easily remove the float bowl. If equipped, first remove the small drain plug and drain the gas from the bowl. Remove the float bowl cover and spray the float and narrow fuel passages with carburetor cleaner.
This kind of "quick-and-dirty" carburetor cleaning is usually all it takes to get the gas flowing again and your lawnmower back to cutting grass.
If not, consider removing the carburetor from the engine, disassembling it and giving it a good cleaning. Be forewarned, however: taking apart a carburetor can lead to nothing but frustration for the uninitiated. Take pictures with your phone to aid in reassembly. Note the positions of any linkages or the settings of any mixture screws, if equipped.
If you're at all reluctant, visit the servicing dealer instead. Also consider replacing the carburetor altogether. It's a fairly simple process on most smaller mowers and it's often less expensive than taking it to the dealer.
Clean/replace the air filter
With the air filter removed, now's the perfect time to clean it. Tap rigid filters on a workbench or the palm of your hand to dislodge grass clippings, leaves and other debris. Direct compressed air from the inside of the filter out to avoid lodging debris deeper into the media.
Use soap and water to wash foam filters. If it's been a few years, simply replace the filter; they're inexpensive and mark the only line of defense against wear-causing debris entering your engine and wearing the cylinder and piston rings.
Check the spark plug
A dirty or bad spark plug may also be to blame. Remove the plug and inspect condition. A spark plug in a properly running four-stroke engine should last for years and never appear oily or burned. If so, replace it.
Use a spark-plug tester to check for spark. If you don't have one, clip the spark-plug boot onto the plug, hold the plug against the metal cylinder head and slowly pull the starter cord. You should see a strong, blue spark. It helps to test the plug in a darkened garage. Replace the plug if you don't see a spark or it appears weak.
While you're at it, check the spark-plug gap and set it to the factory specifications noted in the lawnmower owner's manual.
If you know the plug is good, but you still don't have spark, the coil likely has failed and requires replacement.
Did you hit a rock or other obstacle?
We've all killed a lawnmower engine after hitting a rock or big tree root.
If your lawnmower won't start in this scenario, you probably sheared the flywheel key. It's a tiny piece of metal that aligns the flywheel correctly to set the proper engine timing. Hitting an immovable obstacle can immediately stop the mower blade (and crankshaft) while the flywheel keeps spinning, shearing the key.
In this case, the engine timing is off and the mower won't start until you pull the flywheel and replace the key. It's an easy enough job IF you have a set of gear pullers lying around the garage. If not, rent a set from a parts store (or buy one…there's never a bad reason to buy a new tool) or visit the dealer.
My lawnmower starts, but runs poorly
If you finally get the lawnmower started, but it runs like a three-legged dog, try cleaning the carburetor with AMSOIL Power Foam. It's a potent cleaning agent designed to remove performance-robbing carbon, varnish and other gunk from carburetors and engines.
Add gasoline stabilizer to avoid most of these problems
Which sounds better? Completing all these steps each year when your lawnmower won't start? Or pouring a little gasoline stabilizer into your fuel tank?
Simply using a good gasoline stabilizer can help avoid most of the problems with a lawnmower that won't start. AMSOIL Gasoline Stabilizer, for example, keeps fuel fresh up to 12 months. It helps prevent the lighter hydrocarbons from evaporating to reduce gum and varnish and keep the fuel flowing. It also contains corrosion inhibitors for additional protection.
Buy AMSOIL Gasoline Stabilizer
I have a five-gallon gas can in my garage from which I fuel two lawnmowers, two chainsaws, two snowblowers, a string trimmer, an ATV and the occasional brush fire. I treat the fuel with Gasoline Stabilizer every time I fill it so I never have to worry about the gas going bad and causing problems.
You can also use AMSOIL Quickshot. It's designed primarily to clean carburetors and combustion chambers while addressing problems with ethanol. But it also provides short-term gasoline stabilization of up to six months.