AMSOIL 0W-20 100% Synthetic Hybrid Motor Oil
Doing what AMSOIL does best! Purpose built 0W-20 synthetic oil for the unique stresses and situations only occurring in Hybrid engines.
Purpose Built for Stop Start and Unique Load Situations of Hybrids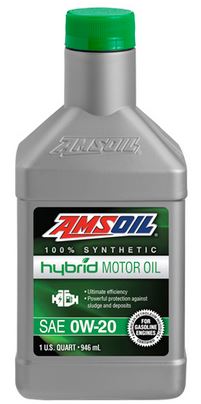 The internal combustion engine (ICE) in a hybrid vehicle endures a unique set of challenges. Infrequent engine usage and increased stop-start activity place demands on lubricants not common in traditional ICE vehicles. Many of these are smaller sumps and the oil often has to perform at full torque before it's even warmed up.
AMSOIL 100% Synthetic 0W-20 Hybrid Motor Oil is a premium upgrade over vehicle-manufacturer-branded motor oils, delivering purpose-built protection for the hybrid-drive cycle to maximize hybrid engine life, efficiency and performance.
See the Product Data Bulletin for full details.
Buy this 0W-20 in the Sioux Falls AMSOIL store at 47073 98th St (Exit 73 near TEA) or use this Online link to the Amsoil sale page if you are outside of the area.
The Only 0W-20 Hybrid oil to Combat Corrosion and Water Contamination
Formulated with a boosted dose of inhibitors to help prevent condensation-related corrosion and maintain optimal engine performance.
Contains an elevated level of dispersants to manage water that enters through condensation.
Protects Against Fuel Dilution – A Big Problem 
Engineered with robust viscosity to combat the negative effects of fuel dilution.
Controls Viscosity – Unique Long Lasting 0W-20
Flows quickly when the engine engages to reach critical components.
Formulated with optimal low-temperature viscosity control to ensure rapid protection of components at startup.
MAXIMIZES FUEL ECONOMY & MAINTAINS LOW EMISSIONS
Licensed by the American Petroleum Institute (API) to meet and exceed requirements commonly found in owner's manuals.
Excels in fuel-economy testing, earning the additional "Resource Conserving" designation from the API. Reason Alone to Use our 0W-20!!
Compatible with modern emissions control systems, promoting proper operation of catalytic converters for optimum service life and low exhaust emissions.
The nature of the hybrid vehicle is to help lower overall costs. The AMSOIL Hybrid Synthetic 0W-20 also takes this into account. A lower priced AMSOIL product to better protect what could be an expensive repair.
Compare the Hybrid lineup to the other AMSOIL versions with this new chart!
Vehicle Look-up: Match AMSOIL Products to your model
Reviews
Great job
By  JERRY,  a  Verified Buyer  from  West Virginia  on  September 05, 2023
Another great quality product. Changed last week to your new 100% synthetic. Within 5 miles my engine got quieter than it has been since purchased. My mpg has gone up slightly already. I am very pleased with this product for hybrids and will certainly recommend to other hybrid owners.
New Oil!
By  RICK,  a  Verified Buyer  from  Visalia Ca.  on  August 28, 2023
Looking forward to using this new oil. I have been using the OE 0-16 until this came out. So far have about 1500 miles on this change out, so time will tell. I drive about 45K per year on this car.