DOMINATOR 10W-40 Racing Oil
Because you requested it, we made it!! This is the newest in our racing oil lineup based on requests. It seems it may end up being the most popular because many impressed with the 15W-50 may want to switch to the 10W-40 for even better revving speed!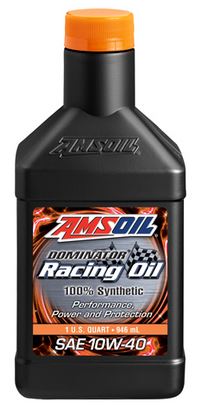 Multi-viscosity, shear-stable synthetic race formula engineered to maximize power while providing outstanding engine protection. Heavily fortified with zinc and phosphorus additives to protect critical surfaces in extreme conditions. Proprietary friction modifier maximizes power and reduces engine temperatures. Durable additive system is excellent for racing and street engines.
See the product data sheet for full details.
Buy in the Sioux Falls AMSOIL store at 47073 98th St (Exit 73 near TEA) or use this Online link to the Amsoil sale page if you are outside of the area.
Amsoil 10W-40 Racing Oil Fights Engine Wear
Durable formulation resists viscosity loss due to mechanical shear to maintain a strong protective oil film.
Heavily fortified with zinc and phosphorus anti-wear additives to provide additional protection against scuffing and wear in severe racing conditions.
10W-40 Racing to Maximize Horsepower
Formulated with a proprietary friction modifier to reduce energy lost to friction.
Delivers maximum horsepower and cooler engine temperatures, promoting improved lap times and longer-lasting components.
EXCELLENT ALL-TEMPERATURE PERFORMANCE
Low pour point offers excellent startup protection and provides less drag when the oil has not reached operating temperature.
Maintains superior film strength in extreme heat.
Thermally stable synthetic chemistry resists the effects of intense heat common to racing engines to provide reliable protection for the duration of the race.
See the product data sheet for full details.
If you are racing to win AMSOIL Dominator is KEY. If you are performing engine tests you want the engine to squeeze out all the power possible w/o added drag. The differences per Gail Banks is in the magnafluxing tests after the run! It's that visible and drastic.