Power Foam Combustion Chamber Cleaner
Local comments:
One of those legendary products long time AMSOIL customers keep in their personal supply. For all gasoline engines both 2-stroke and 4-stroke. A must for that engine that idles frequently or for long duration. Also for that gasser that gets raced, full throttled or on engines that the owner blips the throttle a little too much. These are situations that leave carbon buildup that effects performance. In addition our long time customers would say this product is the poster child for Maintenance!! A must have.
I first used this after a series of road races in my 99 Mazda Miata – instantly noticed the better throttle response. I also needed it to clean up the oil residue left by my K&N filter.  Also in a 78 Lincoln Continental with idling problems and consistent knock in hot weather – AMSOIL Power Foam solved it instantly.
If you have 50,000 on your car and haven't addressed intake carbon buildup – try it and watch the throttle response return.
A MUST for all carbureted automobiles and Essential for all small engines.
**Not for use in DFI (Direct Fuel Injection) where fuel does not come in contact with intake valves.
Power Foam Product Overview
AMSOIL Power Foam® (APF) improves engine performance by removing gum, varnish and carbon deposits that affect power, operation, idle and fuel economy. Power Foam cleans intake valves, intake manifolds and throttle plates to keep the combustion intake system running at peak efficiency. Effective in both two- and four-stroke gasoline engines, Power Foam helps reduce engine ping and keeps carburetors and injector systems operating like new. **NOT AVAILABLE IN CANADA OR CALIFORNIA (Like so many things now, right?)
Carburetor and Induction System Cleaner for Two – and Four-Stroke Gasoline Engines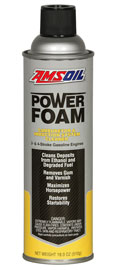 Power Foam is safe for fuel injectors, catalytic converters and emission control devices. It will not damage seals, gaskets, rubber or plastic materials commonly used in gasoline engines.
A host of customers have told us the before and after differences in acceleration performance as well as a better idle after using. If your equipment is used hard or has lacked maintenance for awhile, this is the product you need.
Check Price or Buy
Download Product Data Bulletin
Performance Features
Cleans deposits from ethanol and degraded fuel
Removes gum and varnish
Maximizes horsepower
Restores startability
Helps improve fuel economy
Reduces pollution
Applications
UTVs/ATVs
Boats
Motorcycles
Lawn Equipment
Tractors
Automobiles
Directions
Protect painted surfaces and mass airflow sensors (MAF) from spray.
Ensure application is in a well-ventilated area.
Run engine to normal operating temperature and remove air cleaner assembly.
While engine is running, spray foam directly into throttle body as fast as possible without stalling engine.
Shut off engine and allow to sit for 10-15 minutes.
Replace air cleaner.
Restart engine. Repeat application of Power Foam as needed.
Typically you need to increase the throttle somewhat while you spray it in as it will tend to stop the motor otherwise. On cars with ported fuel injection you might find it easier to spray into a vacuum port (manifold vacuum)  in order to not harm the MAF sensor.
In extreme cases, disassemble carburetor and soak parts.
I noticed there are dozens of videos for this product. I selected one to post here but he does not tell you to be sure the engine is at operating temperatures before you start and to drive the car aggressively after it sits for 15 minutes to blow out the carbon taking advantage of the high quench area temperatures.
Recommendations
Avoid contact with hoses and exterior plastic components. To prevent the dissolving of paint, do not overspray. AMSOIL Power Foam is not recommended for use in diesel engines or as a general purpose degreaser.
AMSOIL PRODUCT AVAILABILITY
AMSOIL Power Foam is available in 18-ounce spray cans..
Buy in the Sioux Falls AMSOIL store at 47073 98th St. or use this Online link to the Amsoil sale page if you are outside of the area.
AMSOIL PRODUCT WARRANTY
AMSOIL products are backed by a Limited Liability Warranty. For complete information visit AMSOIL Warranty Information.