Multi-Vehicle Synthetic Power Steering Fluid
This has been a very good seller over the years especially because of our cold climate. But non-synthetic power steering fluids are never serviced when they need to be so you should have something in there which can take the heat and will not vary in viscosity. Not to mention some products for European cars are very pricey. This one is compatible with dozens of specifications. Problem Solved!
Formulated for Quiet Operation and Reliable Wear Protection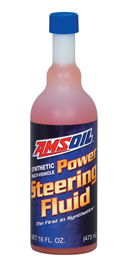 Power steering fluid is often neglected by motorists until a problem arises. It must combat contaminants and undergo temperature extremes while simultaneously fulfilling its role as a hydraulic fluid. Like any other lubricant, power steering fluid accumulates wear material and other debris over time, and therefore should be changed at prescribed intervals. AMSOIL Multi-Vehicle Synthetic Power Steering Fluid's durable synthetic formulation is designed to provide long, trouble-free service in most domestic and foreign passenger cars and light trucks.
Check Price or Buy
Download Product Data Bulletin
Promotes Long Component Life
Multi-Vehicle Synthetic Power Steering Fluid's synthetic chemistry delivers excellent lubricity and friction-reduction properties. As a result, power steering pump components and hoses receive maximum protection against wear and stress for long life and reliable performance.
Excellent Extreme-Temperature Performance
In cold weather, conventional power steering fluid can thicken enough to prevent adequate fluid flow, resulting in power steering pump "whine" and poor operation. Multi-Vehicle Synthetic Power Steering Fluid is formulated with a low pour point that ensures excellent fluidity in cold temperatures, resulting in quiet operation and reliable wear protection. At elevated operating temperatures, it resists thermal breakdown to help components remain clean and last long.
Reduces friction
Helps seals remain soft to prevent leaks
Resists heat for long fluid life
Strong anti-wear protection
Excellent high-temperature protection and low-temperature performance
TYPICAL TECHNICAL PROPERTIES
Multi-Vehicle Synthetic Power Steering Fluid (PSF)
---
| | |
| --- | --- |
| Kinematic Viscosity @ 100°C, cSt (ASTM D445) | 7.5 |
| Kinematic Viscosity @ 40°C, cSt (ASTM D445) | 33.8 |
| Viscosity Index (ASTM D2270) | 197 |
| Brookfield Viscosity @ -40°C, cP (ASTM D2983) | 5,690 |
| Color | Yellow/Brown |
| Clarity | Clear |
| Pour Point, °C (°F) (ASTM D97) | -51 (-60) |
| Flash Point, °C (°F) (ASTM D92) | 230 (446) |
| Fire Point, °C (°F) (ASTM D92) | 250 (482) |
| Four-Ball Wear Test (ASTM D4172 @ 40 kg, 75°C, 1,200 rpm, 1 hr), Scar, mm | 0.46 |
| Foam Tendency (ASTM D892 | 0/0, 10/0, 0/0 |
---
Applications
AMSOIL Multi-Vehicle Synthetic Power Steering Fluid is recommended for power steering systems requiring any of the following specifications:
American Motor Corporation C 4124
BMW 82 11 0 148 132; 83 29 0 429 576; 81 22 1 468 879& 82 11 1 468 041
Chrysler MS-1872; MS-5931; MS-11655 & MS-9602
Ford M2C138-CJ; ESW-M2C128-C&D; M2C195-A; M2C204-A & M2C33-F
GM/Saginaw PSF 9985010; 9985835 & 89021184
Hyundai/Kia PSF-3; PSF-4 & PSF 00232-19017
Mercedes Benz 236.3; 345.0; 001 989 24 03 10; 001 989 24 03 12 & Q 1 32 0001
Mitsubishi Diamond SP III & PS Fluid
Navistar TMS 6810
Nissan PSF-II
Porsche 000 043 206 56
Saab 93160548; (45) 30 09 800 & 30 32 380
Subaru K0209A0080
Toyota PSF Type EH; P/N 008886-01
Volvo 1161529 & 30741424
VW/Audi TL-52146; G002000; G 004 000 M2; G 004 000 M7 & G 004 000 M8
Fluid Extraction Pump
AMSOIL offers a fluid extraction pump (G2576) to aid in the removal of used fluids when servicing vehicles. This high-quality pump can be used to remove old power steering fluid when converting a vehicle to AMSOIL Multi-Vehicle Synthetic Power Steering Fluid. It can also be used to remove other fluids such as engine oil, drivetrain lubricants and engine coolant. (sold separately – Click Here To Order)

SERVICE LIFE
Change your vehicle's power steering fluid at the original equipment manufacturer (OEM)-recommended interval. Follow the OEM's service recommendations to ensure optimum performance.
Buy in the Sioux Falls AMSOIL store at 4610 W. 12th St. or use this Online link to the Amsoil sale page if you are outside of the area.
For warranty information, visit AMSOIL Warranty Information.