I still have a lot of inventory of new, used and refurbished tanks. We fill them when you buy.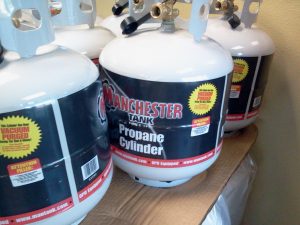 These are priced way below what the market charges, I just have too many and need to put those funds into our oil business so if you need propane for your grill or garage heater now is the time to buy.
If you need your propane tanks filled for winter, NOW is the time to get your large tanks filled as the price is now going up!! 100# (23 gallon tanks) we have a great price to fill.
Refurbished only $35 includes $16 in propane. Yes a FULL tank, not a under filled.  Everyone else gets $40 to $50 for a rusty 20# tank only filled to 15#.
You can buy a real cheep tank at Costco but you still have to fill it. My price is still less. I also have new tanks full for $40 and re-certified tanks for $30 full.  So get them now while I still have them as I will no longer carry tanks when these are gone.
We will however still fill them at a reasonable price.