2022-2023 AMSOIL Championship Snocross Season Gears Up
Scheuring Speed Sports driver Hunter Patenaude enters this season with his eyes on the title. We preview his path.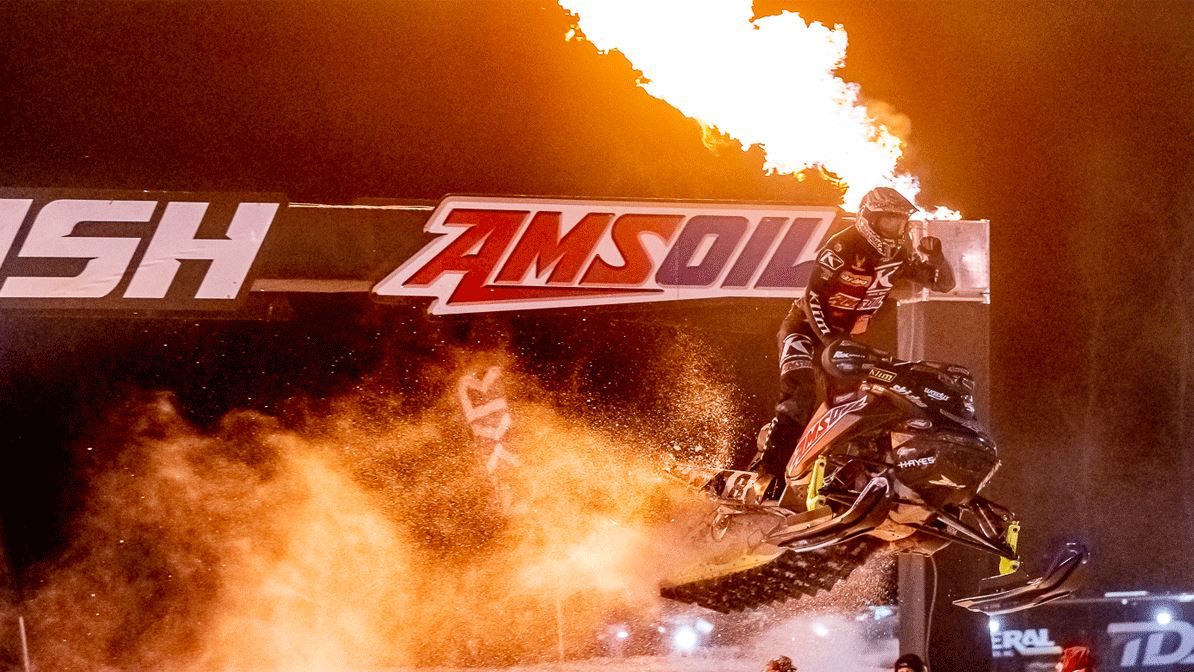 _by Lindsay Tousignant|December 12, 2022
Hey race fans, last March we took a trip up to the Klim Compound to catch up with Scheuring Speed Sports between AMSOIL Championship Snocross races.
At that point, Hunter Patenaude found himself just 37 points out of first place. The next weekend he went on to secure his first Pro win at ERX and sealed his second place in the season overall.
With those results in his pocket, Patenaude enters the new season with his eyes on the title. Let's breakdown his path to clinching it.
Santa's coming early this year. In sled form that is.
AMSOIL Championship Snocross kicks off next weekend in Fargo, N.D. Notoriously one of the coldest weekends on the circuit, the Fargo opener will also play host to the elusive AMSOIL Dominator. But more on that below.
As we head into the new year, the series returns to the Daytona of Snocross, the Pirtek Snocross National in Shakopee, Minn.
The first month of the year closes out with a fan-favorite, the U.S. Air Force Snocross National in the "wild west" of Deadwood, S.D. Then the series heads east. We spend Valentine's Day weekend at the U.S. Air Force National in Salamanca, N.Y.
March kicks off in Sioux Falls, S.D. for the Sioux Falls Snocross National. Then the circuit rolls to ERX Motorpark for the AMSOIL Snocross National in Elk River, Minn.
The season concludes with two ski-slope events, the Cannonsburg Snocross National in Grand Rapids, Mich. and Theisen's National in Dubuque, Iowa.
Dominator goes back to OG status
The AMSOIL Dominator first entered the scene as a head-to-head, bracket-style race on opening weekend for members of the Pro class.
However, in 2021 the AMSOIL Dominator switched to a cup-style format and was expanded to include Sport, Pro Lite and Pro classes. The 10-minute-plus-two-minute format lined up Pro Lite and Sport riders on the front row with Pros in the back. Opening the door for pure carnage, this format was favored by fans, but racers yearned for the old style. After discussion in the off-season, the Dominator will return to its head-to-head format and kick off the season in Fargo.
Setting the stage is a track that gained a lot of attention last season, a design by former snocross champion (and member of Team AMSOIL) Robbie Malinoski.
In 2022, Elias Ishoel captured his fourth straight Pro championship. Coming into this season tied with Ross Martin for career wins at 34, the "Viking Rocket" will look to take that record as he runs for his fifth title.
Though the true Dominator, Ishoel was contested by Pro sophomore, Scheuring Speed Sports Hunter Patenaude. Patenaude is hungry to capture a championship after his first career Pro win last season.
Hot on their tails will be a slew of returning riders including Petter Narsa, Aki Philaja, Francis Pelletier, Patenaude's Scheruing Speed Sports teammate Logan Christian and others, making this season one of the most competitive in years.
Be sure to catch all of the season's action by subscribing to FloSports. Tape-delayed programming of all 16 rounds will be re-aired on CBS Sports network.
Racing kicks off Friday, Dec. 16 with the AMSOIL Dominator in Fargo. Follow our social channels for more information and behind-the-scenes action.
We'll see you at the races!