Scott Birdsall joins Team AMSOIL
Scott Birdsall, holder of the Pikes Peak International Hill Climb and half-mile diesel records, joins Team AMSOIL.
I never seen a team with such the interesting variation of vehicles.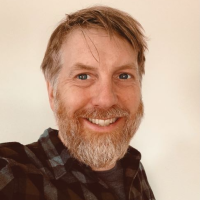 _by Brad Nelson|June 16, 2023
"It's about finding that last tenth." That's how Scott Birdsall sees competition — and clearly, he knows where to go looking for it. Birdsall, the newest member of Team AMSOIL, is the visionary builder and driver of Old Smokey – a 1949 Ford F1 pickup equipped with a 12-valve, 6.7L twin-turbo Freedom Racing Engines* Cummins* – that holds the Pikes Peak International Hill Climb diesel record with a time of 11:24.065. Birdsall and Old Smokey also hold the half-mile diesel land-speed record at 167 mph. Those accomplishments are even more incredible considering that Birdsall simultaneously operates two award-winning fabrication shops, Chuckles Garage and Resolute Motorsports in Santa Rosa, Calif. But instead of slowing down, Birdsall is just getting started. When the milestone 100th Pikes Peak International Hill Climb runs on June 26, 2022, he will be back with a new car intent on resetting his own record. And AMSOIL will be there to help.
"I bought Old Smokey off craigs list for $225," said Birdsall.
I was just going to flip it, but it started to grow on me. I decided to make it into a shop truck to run around in and grab parts and stuff with, so we put a 12-valve Cummins diesel in it and some standard stuff.
"But I don't have any personal restraint," he continued. "So, one turbo turned into two, and two turned into two really big ones – and then it turned into needing big breaks. It turned into a 1200-hp street truck. Before I knew it, it was a full-blown race truck with a license plate on it."
Old Smokey debuted at the 2016 SEMA with a lot of buzz, going viral on social media and making Car and Driver's Top 10 of SEMA 2016. But Birdsall decided to take the truck to yet another level.
Old Smokey went through another rebuild with "literally everything" upgraded with $400,000-plus of premium components. He says you can think of Smokey as a World Challenge Cup GT race car hiding under a '49 Ford F1. It has a computer designed aerodynamics package that creates tons of downforce. The Freedom Racing Engines* Cummins* runs on NexDiesel,* a renewable fuel that burns clean and efficient. FASS Fuel Systems* pumps and Dynamite Diesel* injectors deliver the fuel, creating a staggering 1,463 hp and 2,100 lb-ft of torque. Birdsall says that Smokey is a beast to drive at 4,400 nose-heavy pounds and no driving aids like traction control or ABS.
"Smokey is like sitting on a silverback gorilla and giving it the taser," joked Birdsall. "It's a purely analog machine with no driver aids at all. The only drivers aid is your fear of mortality."
Race to the Clouds
The Pikes Peak International Hill Climb, also known as "The Race to the Clouds," is a race to the summit of Pikes Peak in Manitou, Colo. The route stretches uphill 12.42 miles with 156 turns and 4,725 feet of elevation gain.
"There's always been this mystique," said Birdsall about Pikes Peak. "It's one of the most legendary races in the world. I grew up watching it on TV with my dad, so I always held these drivers up on a huge pedestal. They're professional racing drivers but they're also doing this crazy race up this half-dirt, half-paved road."
Birdsall has always been a gear head with a love for speed. He grew up racing dirt bikes and go-karts through club racing and then some World Challenge racing. But he walked away from the track for a while to focus on snowboarding.
"Before I was a sponsored racer, I was a sponsored snowboarder," said Birdsall. "I rode for Burton* and Analog.* It's crazy because my first big sponsor in the automotive world was Airaid,* and their GM at the time was a bigwig at Burton.* We met at SEMA and it just clicked. My snowboard sponsor became my first auto sponsor."
In 2017, Birdsall set his sights on Pikes Peak. "I just got the idea, I wanted to go run the Peak," he said. But things didn't go his way initially.
"I threw it off the mountain in 2018 on my first try," said Birdsall. "I crashed in tire testing, herniated two discs in my neck and broke my tailbone." Old Smokey was also banged up. Birdsall and his crew fixed the truck in eight days and came back to qualify, but engine damage caused Birdsall to withdraw from the race.
He returned in 2019 and managed to start the race. But halfway through his run, rain and hail moved in and the race was called off for safety reasons.
But tenacity paid off in 2020. Birdsall and Old Smokey pulled down the Pikes Peak diesel record set in 2015 by an AWD Mercedes-Benz* C 250 d 4MATIC driven by factory rally driver Uwe Nittel. He succeeded despite Old Smokey overheating at 12,800 feet, putting it into limp mode to the finish. But Birdsall takes it in stride.
"I don't know," he said. "It's just like my whole life, things just happen. There's no plan, it just flows into its own organic monster. Same thing with my Porsche business, I never intended to have one. I just built one and it just became popular."
In the early 2000s, Birdsall was working as a regional manager for a big-box retailer, but it wasn't his thing.
"I got sick of corporate America, so I had to leave for my own health reasons," he said. "It's not worth it, burning eight hours of your life for something you're not passionate about. You're just burning your life to fuel someone else's dreams."
In 2005, Birdsall opened Chuckles Garage. The shop specializes in custom builds with Birdsall as lead designer. The shop has gained an international reputation for their work, with projects featured in magazines like Hotrod, Car Craft, TRC, Diesel World, Diesel Power and numerous TV shows.
Let's tune in to see Chuckles in action..
"My personal passions are Porches* and vintage Japanese cars," said Birdsall. "By vintage I mean the 90s, things like that. For example, I have a '93 Selica World Rally Car GT 4 and a '98 Supra Twin Turbo that's basically a crazy streetcar with 13-hundred horsepower."
As Chuckles Garage took off, the ever-restless Birdsall co-founded a second shop, Resolute Motorworks, to focus on fabricating Porsches.* Resolute builds cars from the SC and Carrera 3.2 generation of 911 Porsches, ideally 3.2-Liter cars produced from 1983 to 1989, and remake them into serious on-/off-road cars with re-engineered components that are tested on desert, gravel, snow and pavement.
"Chuckles does pretty much anything I deem fun. Resolute does Overland 911s and Overland Cayennes," Birdsall said.
Birdsall is returning to Pikes Peak in June. He hopes to reset his own record somewhere in the nine-minute mark. He also intends to push his half-mile diesel land-speed record to 180 mph. To run down those goals, he's building a new car.
"I want to take my Pikes Peak diesel record and put it up where it's really hard to get," said Birdsall. "The new car that I built to be Smokey's successor is a full-on Le Mans prototype, like a car you'd see running the 24-hours of Le Mans. So that's a different kind of diesel. The new chassis will weigh less than 3,000 pounds with tons of downforce. Everything is super racecar on it and thoroughly modern. I've basically taken it and blown it down to its basic elements and made it into its own chassis. We call it the 'CG Superlight LMP1.'"
The CG Superlight will be powered by a VM Motori* 24-valve diesel V6 built by Freedom Racing Engines.* It's equipped with compound Garrett Motion* turbos to produce an output of 600 hp and 900 lb-ft of torque that's mated to a 6XD 6-speed sequential transaxle.
Birdsall will be driving the CG Superlight, but he won't be kicking Old Smokey to the curb. The fan-favorite will also return to the mountain, this time with Aaron Kaufman behind the wheel.
Given the audacity of his goals, Birdsall sought out a lubricant partner with a history of winning races and resetting limits.
"AMSOIL provides us with a reliability bump," said Birdsall. "It's definitely cool that I'm with a sponsor that has already conquered the peak – and basically puts my name in the hat with the Unsers. That's cool, they are royalty out there. And I really like AMSOIL's overall spread of motorsports. They really are into everything."
When Birdsall leaves the line to reset his Pikes Peak diesel record on June 26, AMSOIL will be there too, helping him find that last tenth.
Keep up with Scott Birdsall's adventures. Follow him on your favorite social media channel at @chucklesgarage.
*All trademarked names and images are the property of their respective owners and may be registered marks in some countries. No affiliation or endorsement, claim, express or implied, is made by their use.