Known for Being The Pinnacle of Performance, AMSOIL and Banks Make for Logical Partnership
Much more to be published on this in the future of course – here's just a little about the two firms.
Endorsement To Better Serve Customer Base
Banks Power has recently endorsed AMSOIL as the lubricant of choice. As the premier design and manufacturer of power enhancing products for diesel and gas powered vehicles, Banks Power is well-known and respected in the diesel enthusiast community. Similar to AMSOIL, the company's fundamental principles combine old fashioned business ethics and service with leading technology. Customers expect elegantly engineered products, superior construction, scientifically proven performance and competitive prices.

Technological Achievements
Banks company history is studded with technological achievements. Including Gale's pioneering work in turbocharging marine engines in 1969; the premiere of twin-turbo small block Chevy engines in 1978; the invention and patent of the Banks OttoMind electronic fuel management module in 1997; transmission control systems; and the recent invention and patent of the iDash DataMonster, the only instrument to calculate, log and display an exclusive suite of engine parameters, including manifold air density.
Engineering
First and foremost, Banks is an engineering firm. Established in 1958 Banks has grown to 100+ employees on a 12 acre campus. The mechanical engineering department is staffed with world class automotive experts who design and test the latest high performance equipment. In the Race Shop, special project vehicles feature cutting edge diesel and gasoline development, multiple turbo applications, mind-boggling horsepower and head turning style. Sophisticated electronic engineering technologies are applied to engine improvement in the rapidly growing Computer Systems Engineering Department. Gale Banks Engineering Designs turbocharged engines from the centerline of the crankshaft out.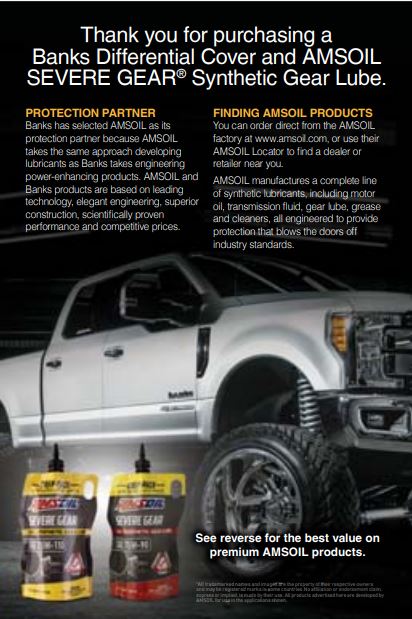 "Banks Protected by AMSOIL"
Banks Protected by AMSOIL endorsement will appear on all digital media reaching millions of enthusiasts who have yet to experience the AMSOIL difference.
Creating further valuable exposure, Banks is offering its new differential cover bundled with four Easy Packs of the AMSOIL Severe Gear as the first fill lubricant coupled with a flyer with information on how to buy or find AMSOIL products.