Advanced Original Equipment 15W-40 Diesel that Competes On Price
The Synthetic Diesel motor oil which offers the highest quality in its class. Priced to lead the market.
AMSOIL OE line – Customer Proven – First our own comments:
We used to try to up sell the customer on this to the Premium DME but since we started receiving unexpected testimonials, I reserve it as a introduction product for our customers who buy for their other equipment not thinking about their diesels. As a Preferred Customer our customers are astonished on the price!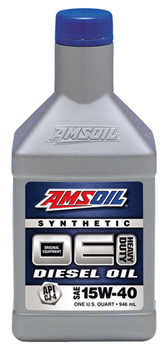 The OE 15W-40 product even held up beyond 15,000 miles per a customers oil analysis in an older 7.3 Ford Powerstroke who took the sample on his 2nd use of the product. This truck had about 115,000 miles so analysis was needed to see the condition of the TBN level.  Other customers note how oil pressure doesn't waver as the oil gets close to the end of it's useful life.  This is the reason to use AMSOIL OE Synthetic 15W-40 or the 10W-30. All non-synthetics are proven to sheer (lose their viscosity) under the standard Kurt Orbahn Shear Stability Test (180 Cycles).
So the OE was designed to not only save you some money for a OEM drain interval using a synthetic base, but to provide the diesel owner with the lowest cost way to use AMSOIL yet still have peace of mind that the viscosity will remain. Others cannot say this and you can prove it on you own with Used Oil Analysis.
Although it has been impressed on us that the oil will go several thousand miles longer than the OEM recommendation please keep in mind AMSOIL's warranty on OE is #1 – based on the OEM interval or #2 the longest oil life monitor's feedback as for when to change or #3 via Used Oil Analysis.
In summary, based on the nature of newer diesel trucks with the DPF system, you should never use a non-synthetic based oil. There are too many opportunities for sheer, fuel contamination, and early turbo coking.  AMSOIL OE 15W-40 or 10W-30 are perfect.
"Before you buy your diesel oil elsewhere in Sioux Falls, stop into The Synthetic Warehouse and try the OE Diesel. Compare to the way the engine runs, mileage and then compare oil samples from the prior oil and this one at the end of the interval. You can go safely to the longest interval the manufacturer allows using any filter. We also have our own oil filter which has more capacity but call the AMSOIL store and ask for the price on the OE Diesel 4-Gallon Case or 5-Gallon Case. 
Remember to specify if you want 15W-40 or 10W-30. This product is compatable with all diesels and you can take it anywhere to have it changed." 
OE 15W-40 Synthetic Diesel Oil
Formulated for Excellent Diesel Engine Protection and Performance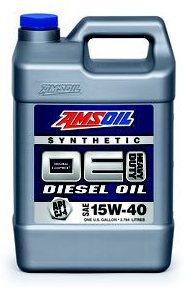 AMSOIL OE 15W-40 Synthetic Diesel Oil provides excellent protection and performance in both on- and off-road diesel engines for the original equipment manufacturer's recommended drain interval. It meets API CJ-4 specifications and is suitable for both modern and older diesel applications. AMSOIL OE 15W-40 Synthetic Diesel Oil exceeds the higher performance demands of modern engines and withstands the stress of heat, soot and acids to help prevent deposits, wear and corrosion.
AMSOIL, the leader in automotive synthetic lubrication, produced the world's first API-qualified synthetic motor oil in 1972. Trust the extensive experience of AMSOIL, The First in Synthetics®, to do the best job protecting your engine.
OED and OEC Diesel Product Data Sheet PDF
Meets Emission System Requirements
AMSOIL OE 15W-40 Synthetic Diesel Oil is a low-sulfated ash formulation that meets the requirements for low-emission quality diesel oil and protects under the most severe conditions found in modern diesel engines. It is compatible with all exhaust treatment devices and is designed for engines equipped with diesel particulate filters (DPF).
Extreme-Temperature Performance
AMSOIL OE 15W-40 Synthetic Diesel Oil is formulated for improved heat and oxidation resistance over conventional petroleum oil for cleaner engine operation, maintaining power and fuel efficiency for superior engine performance. Its dependable cold-temperature flow assures easier start-up and improved post start-up protection.
Resists Oil Consumption and Emissions
Due to its low rate of volatility (burn-off), AMSOIL OE 15W-40 Synthetic Diesel Oil is able to reduce oil consumption and emissions during operation. It maintains its excellent film strength even during high-temperature operating conditions to ensure dependable protection, performance and fuel efficiency.
Controls Soot-Thickening and Wear
AMSOIL OE 15W-40 Synthetic Diesel Oil is formulated with premium synthetic base stocks and robust detergent/dispersant additives that keep soot particles from agglomerating and forming larger wear-causing particles. The AMSOIL OE 15W-40 Synthetic Diesel Oil formulation allows for optimal soot-related viscosity control to maintain stay-in-grade performance.
APPLICATIONS
AMSOIL OE 15W-40 Synthetic Diesel Oil is recommended for diesel engines and, where appropriate, gasoline engines requiring any of the following specifications:
API licensed CJ-4/SN
ACEA E9
DDC 93K218
Cummins CES 20081
MB 228.31
CAT ECF-3, ECF-2, ECF-1-a
Mack EO-O Plus
Volvo VDS-4
MAN 3575
Renault RLD-3
MTU Type 2.1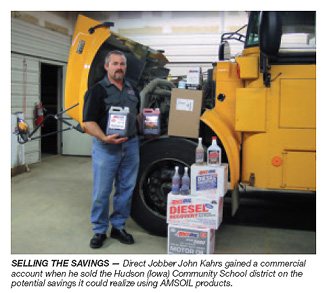 COMPATIBILITY
AMSOIL OE 15W-40 Synthetic Diesel Oil is compatible with conventional and synthetic motor oils. Mixing AMSOIL motor oils with other oils, however, will reduce the performance benefits.
Aftermarket oil additives are not recommended for use with AMSOIL motor oils.
SERVICE LIFE
AMSOIL OE Synthetic Diesel Oil is recommended for the intervals stated by the original equipment manufacturer (OEM). Refer to the owner's manual for the specific oil change interval. Replace the oil filter at each oil change as specified by the OEM.
If you are not in the Sioux Falls Area call us for the best pricing and shipping options at 800-579-0580. Or you can order 15W40 OE Diesel online through the corporate site