V-Twin Oil Change Kit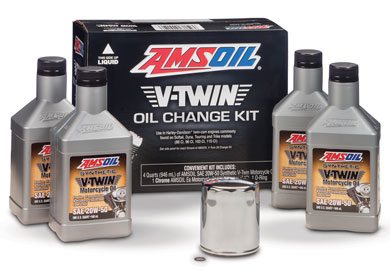 The AMSOIL V-Twin Oil Change Kit includes the following:
(4) quarts of AMSOIL 20W-50 Synthetic V-Twin Motorcycle Oil (MCV)
(1) chrome AMSOIL Ea® Motorcycle Oil Filter (EaOM134C)
(1) O-ring for the drain plug
* Harley-Davidson owns the trademark rights to Harley-Davidson and the motorcycle models listed. No affiliation or endorsement claim, express or implied, is made by their use.
Check Price or Buy
Oil Filter Wrench GA251 ( fits the filter EaOM134C)
Find Products For My Bike (All in stock in the Sioux Falls location)
Buy in the Sioux Falls store at 12th & G or use this Online link to the Amsoil sale page if you are outside of the area.