Slip Lock Gear Oil Additive
Differential Additive
AMSOIL Slip Lock® Differential Additive (ADA) is formulated with advanced friction modifiers and is designed to eliminate gear-housing chatter in cars, trucks and SUVs equipped with clutch-type limited-slip differentials.
Excellent price!
AMSOIL's full retail is less than the Mopar OEM product. That's why we made it so that shops can buy a better product for less. Of course it's available to anyone here out of our Omaha store.
Differential Product Overview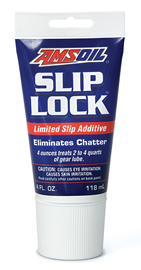 AMSOIL Slip Lock Gear Differential Additive is formulated for use with both synthetic and petroleum gear lubricants and safely replaces manufacturer-recommended friction modifiers. Its convenient squeeze-tube packaging provides quick and easy application to the gear housing. One four-ounce tube of Slip Lock treats differential capacities of two to four quarts. It is not for use in automatic transmissions or other applications requiring automatic transmission fluid.
NOTE: AMSOIL synthetic gear lubes do not require this additive. However, not all differentials respond the same and the addition of AMSOIL Slip Lock will eliminate chatter in mechanically-sound differentials.
Download Product Data Bulletin
Check Price or Buy
Contains advanced friction modifiers
Eliminates gear housing chatter
Recommended for cars, trucks and SUVs
For warranty information, visit AMSOIL Warranty Information
Note: Our differential oils have this installed already but generally 15% of the differentials out there will still need additional. This product can easily be added of chatter is noticed. It's also great for any GL5 gear lube, OEM or name brand which doesn't have the appropriate amount.
A popular product at the Exit 73 (Tea Exit) location in Sioux Falls. We are just behind Marlins
Buy in the Sioux Falls AMSOIL store at 47073 98th St. or use this Online link to the Amsoil sale page if you are outside of the area.
Reviews
Slip lock is better than GM brand
By BV 8/31/2016
from Chicago
Installed a new ring and pinion with Yukon brand limited slip differential on a 8.2″ 10 bolt. Works great with one tube of AMSOIL Sliplock and 75/140 gear lube.
will buy this product again
By  Kelly,  a  Verified Buyer on  September 02, 2019
Like all Amsoil products they work great that is why all my vehicles run Amsoil in them.
Slip Lock
By  GNX6,  a  Verified Buyer  from  California  on  May 14, 2019
It does what it is supposed to do, prevents clutch pack sticking in posi style diffs.
I use it on wet disc brakes in Yamaha Golf Cart
By  nydadinfla,  a  Verified Buyer  from  The Villages ,Fl.  on  May 04, 2019
This stuff works it stop the noise in 1/4 mile
Yes
By  Kenty,  a  Verified Buyer  from  Mn  on  December 24, 2018
Worked great
Would purchase again
By  Rick,  a  Verified Buyer  from  Versailles, OH  on  November 03, 2018
Purchased for my Wrangler. Did the trick and quieted the clutches.. Packaged great also..Would purchase again..
Definitely by again.
By  Thor,  a  Verified Buyer  from  Southport, NC  on  June 17, 2018
I had a horrible chattering in the rear end of my F150 every time I turned and accelerated. I put Amsoil slip lock in the rear diff, it took me about 2 minuets to do it and I noticed an immediate reduction in chatter. Within the first 50 miles of driving the chatter was completely gone and I have not heard it since. Excellent product and I would definitely recommend it. Probably saved me from eventually having to replace the rear end.
Amsoil for me
By  Bikerdoc,  a  Verified Buyer  from  Hollister CA  on  March 04, 2018
I have been using and oil products for years On cars, tricks, Jeep, rv, and my Harley And I see no reason to anything else!
Limited Slip additive
By  Eric,  a  Verified Buyer  from  VA  on  January 14, 2018
Did it's job cheaper then my part stores
Slip lock gear oil additive
By  Emitt,  a  Verified Buyer  from  Virginia  on  June 02, 2017
As with all other AMSOIL products that I use in everything I love it and recommend all their products to everyone who cares about their investments.
Better than the dealer brand
By  Be,  a  Verified Buyer  from  Wilsonville, OR  on  May 11, 2017
For the cost and better product than the dealership, I would highly recommend this.