Series 3000 5W-30 Synthetic Heavy Duty Diesel Oil
Engineered for pre-2007 diesel engines in on-road applications as well as all model year diesel engines in off-road applications. Also engineered for all gasoline engines recommending API SL specifications including turbo-charged vehicles. Provides superior wear protection and fuel efficiency. This is a step above the 5W-30 Signature Series for gas engines which need Zinc as an anti-wear additive. This is our Sioux Falls store's personal recommendation for 1990 and earlier cars which require 10W-30 and 5W-30.. Use for both diesel and gas engines. The best in the industry!!!
Maximum Fuel Economy and Excellent Anti-Wear Protection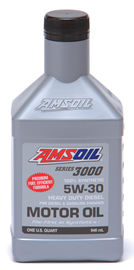 AMSOIL Series 3000 5W-30 Synthetic Heavy Duty Diesel Oil delivers extraordinary lubrication in both diesel and gasoline engines found in commercial, fleet and personal vehicles. By combining the industry's premier synthetic technology with AMSOIL premium additives, AMSOIL Series 3000 exceeds the higher performance demands of modern engines, including those with turbochargers. It withstands the stress of higher heat, higher acid levels and excessive soot-loading found in exhaust gas recirculation (EGR)-equipped engines. AMSOIL Series 3000 5W-30 Synthetic Heavy Duty Diesel Oil consistently outperforms conventional and synthetic diesel oils for long-lasting performance and protection.
Check Price or Buy
AMSOIL, the leader in automotive synthetic lubrication, produced the world's first API-qualified synthetic motor oil in 1972. Trust the extensive experience of AMSOIL, The First in Synthetics® to do the best job protecting your engine.
Download Product Data Bulletin
Maximum Protection Against Engine Wear
Even under high temperatures and pressures, AMSOIL Series 3000 Diesel Oil's superior film strength and anti-wear additives help prevent metal-to-metal contact. AMSOIL Series 3000 reduces ring wear, cylinder bore polishing, oil consumption and valvetrain wear for improved engine life and lower maintenance costs.
Don't be afraid to use a 5W-30 diesel oil!! If it is in your owners manual for recommendations within your normal climate temperatures, then try it. If the oil consumption is higher than normal (One quart every 7000 miles), then go back to 15W-40. When the Ford 7.3 was new we had dozens of customers at our first location in Dallas, TX using it enjoying the better mileage and better engine performance.  In cold climates it's the only choice – and for most, it's a perfect once per year oil change. Generally 20,000 miles or 1-year. Follow the guidelines below.
Maximizes Fuel Economy
AMSOIL Series 3000 Diesel Oil is energy efficient for reduced fuel costs. Its low viscosity minimizes "drag" associated with high-viscosity oils, allowing the engine to operate more freely, maximizing power and fuel economy. Multiply this by two when ambient temps are below 20 degrees.  Don't forget the AMSOIL differential oils to enhance mileage even more.
Vehicle Look-up: Match AMSOIL Products to your model
Extends Drain Intervals
AMSOIL Series 3000 Diesel Oil can extend drain intervals far beyond those recommended for conventional oils. Its unique synthetic formulation and long-drain additive system deliver maximum engine protection, cleanliness and performance over extended drain intervals, reducing vehicle maintenance and waste oil disposal costs.
Controls Soot-Thickening and Wear
AMSOIL Series 3000 Diesel Oil is heavily fortified with detergent/dispersant additives and is naturally resistant to soot. It is designed to keep soot particles suspended independently and prevent them from attaching together to form larger, wear-causing particles. Viscosity increase is minimized and soot-related wear is controlled.
Reduces Oil Consumption and Emissions
AMSOIL Series 3000 Diesel Oil effectively reduces high-temperature volatility (evaporation), outperforming conventional oils. Because less oil vapor passes into the combustion chamber, oil consumption and emissions are reduced. Additionally, lower volatility helps AMSOIL Series 3000 Diesel Oil retain its viscosity after high-temperature service for continued dependable protection and excellent fuel economy.
Excels in Extreme Temperatures
AMSOIL Series 3000 Diesel Oil resists thermal (heat) breakdown, oxidation and sludge formation better than conventional oils. And unlike conventional petroleum oils, AMSOIL Series 3000 contains no wax. It stays fluid down to -50°C (-58°F) for improved cold-temperature oil flow, reduced bearing wear and easier starting.
APPLICATIONS
AMSOIL Series 3000 5W-30 Synthetic Heavy Duty Diesel Oil is recommended for diesel engines, including those that are trubocharged, gasoline engines and other applications that require any of the following specifications:
API CI-4+, CI-4, CH-4, CF-2, CF, SL, SJ
ACEA A3/B3, E2, E3, E5, E7
Global DHD-1
JASO DH-1
Mack EO-M, EO-N
DDC 93K214
Caterpillar ECF-1-a, ECF-2
Cummins CES 20076, 20077, 20078
Volvo VDS-2, VDS-3 • MB 228.1, 228.3, 229.1
MAN 271/3275
MTU Type II
COMPATIBILITY
AMSOIL Series 3000 5W-30 Synthetic Heavy Duty Diesel Oil is compatible with other conventional and synthetic motor oils. Mixing AMSOIL motor oils with other oils, however, will shorten the oil's life expectancy and reduce the performance benefits. AMSOIL does not support extended drain intervals where oils have been mixed.
Aftermarket oil additives are not recommended for use with AMSOIL motor oils.
Buy in the Sioux Falls AMSOIL store at 4610 W. 12th St. or use this Online link to the Amsoil sale page if you are outside of the area.
SERVICE LIFE
AMSOIL Series 3000 5W-30 Synthetic Heavy Duty Diesel Oil is recommended for extended drain intervals in unmodified, mechanically-sound vehicles or equipment as follows:
Diesel Engine Service
Three times (3X) OEM* recommendation, not to exceed 50,000 miles/600 hours or one year, whichever comes first. Drain intervals may be extended further with oil analysis.
Gasoline Engine Service
Normal Service – Up to 25,000 miles or one year, whichever comes first, or longer based on oil analysis.
Severe Service – Up to 15,000 miles or one year, whichever comes first, or longer based on oil analysis.
*Operating conditions and drain intervals for severe and normal service are defined by the OEM. Refer to your owner's manual.
Note: Extended drain intervals are not recommended when using biofuels containing >10% ethanol or 10% biodiesel (B10). Follow OEM drain intervals or extend drain intervals with oil analysis.
For warranty information, visit AMSOIL Warranty Information.
Customer Comments:
Series 3000 5W-30 Heavy Duty Diesel oil
By MATT 12/31/2016
from undisclosed
I've been using using this product in my 2001 Ford Excursion 7.3L Diesel. Change every 15,000 miles . 288,000 miles so far ! High pressure oil actuates the fuel injectors on this engine. Still on original injectors. I believe the full synthetic oil has helped extend the life of the injectors. Several of my friends have had to replace their injectors on similar Ford diesels. Looking to put 500k miles on my Excursion. Amsoil products in transmission and rear end as well.
Series 3000 5W-30 for the 6.0 Powerstroke engine
By TN 8/31/2016
from Leonardtown, MD
I have experienced quite a few problems with the 6.0 Powerstroke engines and I can say that my 6.0 runs like a top after switching to this oil. As far as I am concerned this is the only oil that I will ever put back into this machine – it has made a noticeable difference, especially in cold weather. I was skeptical at first but this oil was made with the 6.0 in mind. The standard 15w-40 oils tend to get sheared down by the High Pressure Oil Pump meaning they are 15W-40 when you put it in the engine but it is not 15W-40 when it comes back out. Where the Series 3000 oil goes in at 5W-30 and comes out at 5W-30.
Bottom Line
Yes, I would recommend this to a friend
Series 3000 5W-30 Synthetic Heavy Duty Diesel Oil
By COL DAVE 8/29/2016
from San Antonio, Tx
I have been using this oil for over 5 years now and I would not change for any other brand. Amsoil is easy to work with and they ship fast. Great company.
Bottom Line
Yes, I would recommend this to a friend