SABER Professional Synthetic 2-Stroke Oil
The money saving, double protection solution to hardworking 2-cycle gear!
Available in all sizes at Stan Houston's on W. 12th St and our location near the Tea Exit 73.
One Oil Covers All Mix Ratios

Designed for pre-mix applications as lean as 100:1 ratios or richer. Improves throttle response and lowers or eliminates smoke. Minimizes deposit formation and lowers emissions. Performance emphasis on hand-held power equipment such as chainsaws and lawn/utility equipment.
An Sioux Falls favorite! We have gained a LOT of business thanks to AMSOIL's 2nd oldest product. Power equipment, scooters, dirtbikes, ATVs and even under racing use. Yes – this goes back to 1973 and has been tested by a 3rd party standards lab (SWRI) to pass the same required test only at 300:1!!  Sioux Falls landscapers rely on this one for their equipment dependability.
Check Price or Buy
Download Product Data Bulletin
Saber 2-Cycle Pre-mix Performance Overview
Use in all handheld two-stroke equipment or other applications that specify JASO FD, ISO-L-EGD or API TC, including STIHL,* Husqvarna,* ECHO,* Toro,* Shindaiwa,* Craftsman,* 4-Mix STIHL and Hybrid 4 Shindaiwa.
While two-stroke engines are widely used in handheld power equipment due to their high power-to-weight ratio, equipment owners and operators are faced with exhaust smoke, the task of properly mixing oil and gas for different equipment manufacturers, and premature wear and engine failure. AMSOIL SABER® Professional Synthetic 2-Stroke Oil effectively addresses these issues and more.
Specially formulated for pre-mix, air-cooled applications, it withstands high heat and stress to protect engines against wear and harmful deposits. SABER Professional offers 50 years of outstanding protection and performance at lean mix ratios referred to as the SABER Ratio™. Using the SABER Ratio eliminates the need for mixing different ratios for different equipment, while smoke is virtually undetectable. With AMSOIL SABER Professional, there is no compromise. It saves time and money while delivering the ultimate convenience and engine protection.
AMSOIL Synthetic 2-Stroke Oil has been providing improved performance and protection in two-stroke engines since 1973. Trust the extensive experience of AMSOIL, The First in Synthetics®, to do the best job protecting your engine.
Engine Protection
SABER Professional has been tested and proven to provide premium protection and performance at 100:1 mix ratios. It is recommended for any mix ratio up to 100:1. When tested at half the treat rate for conventional oils (100:1 vs. 50:1), SABER Professional easily passed the industry-standard lubricity test. SABER Professional is designed for hot-operating two-stroke engines, effectively fighting carbon/deposit formation and preventing ring sticking.
FIGHTS POWER-ROBBING CARBON
High-quality synthetic base oils burn more cleanly than other synthetic and conventional base oils.
Eliminates carbon deposits that lead to stuck piston rings, clogged exhaust ports and plugged spark arrestor screens for easier starting and maximum power.
Delivers improved cleanliness mixed at the SABER Ratio™ of 100:1 compared to other oils mixed at a conventional 50:1 ratio.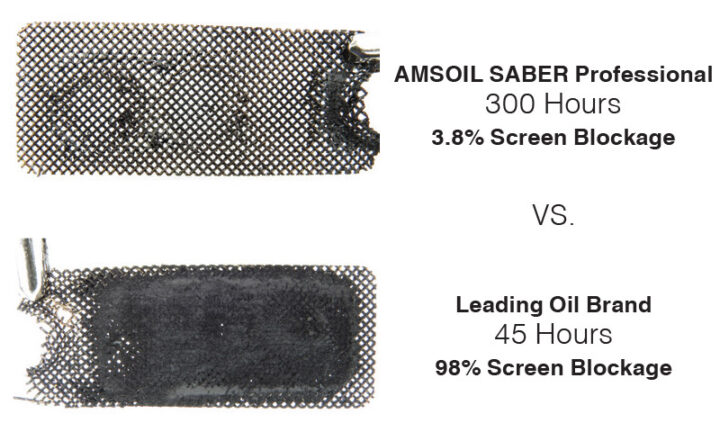 Vehicle Look-up: Match AMSOIL Products to your model
Smokeless Operation
SABER Professional's synthetic formulation burns clean, passing the industry-standard smoke test at the standard rich mix ratio. When mixed at the SABER Ratio, smoke is virtually undetectable. Equipment operators subjected to smoke and fumes benefit from these low-emission properties.
Fuel Stabilization
SABER Professional provides the additional benefit of fuel stabilization to help prevent fuel from deteriorating during storage and causing poor engine performance. There is no need to add an additional fuel stabilizer when putting equipment into seasonal storage.
Excellent lubricity and cleanliness properties
Controls friction and helps prevent wear, plug fouling, ring sticking and exhaust port blocking
Smokeless – delivers fewer emissions at 80:1 and 100:1 mix ratios.
Stabilizes fuel for off-season storage
Delivers outstanding protection and performance at lean mix ratios
Anti-rust formulation counteracts the damp environments often encountered in two-stroke applications
Two Stroke Applications
SABER Professional is specifically designed for handheld pre-mix two-stroke power equipment including, but not limited to, chainsaws, trimmers, blowers, brush cutters, edgers and shredder vacs.
Use at conventional mix ratios or the SABER® Ratio,™ regardless of the mix ratio specified for the equipment. For maximum benefit, use the SABER Ratio.
| | | | |
| --- | --- | --- | --- |
| MIX | RATIO | OIL | FUEL |
| Conventional | 32:1 | 4.0 OZ | 1 U.S. gallon |
| Conventional | 40:1 | 3.2 OZ | 1 U.S. gallon |
| Conventional | 50:1 | 2.6 OZ | 1 U.S. gallon |
| SABER® Ratio™ | 80:1 | 1.6 OZ | 1 U.S. gallon |
| SABER® Ratio™ | 100:1 | 1.3 OZ | 1 U.S. gallon |
For warranty information, visit AMSOIL Warranty Information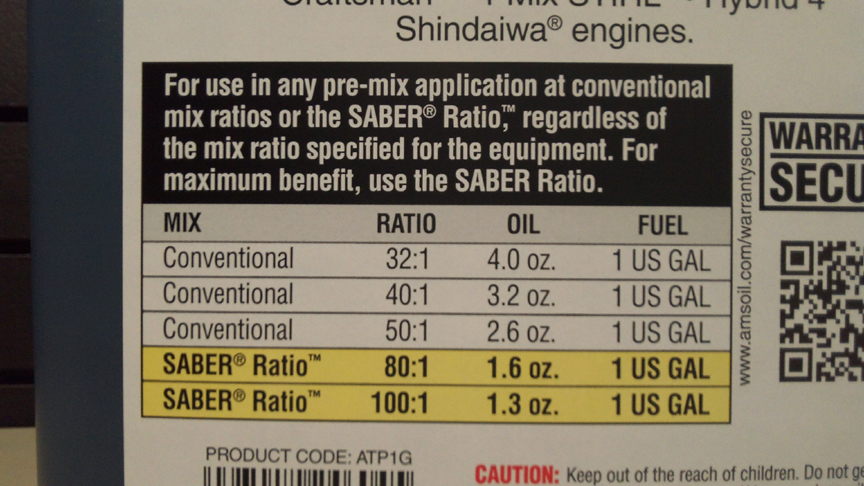 Best product for your equipment
By  CARL,  a  Verified Buyer  from  Central texas  on  September 10, 2023
We run it 100:1 in all our handheld equipment. Run cleaner and smoother for a longer duration!
Oil
By  JEFF,  a  Verified Buyer  from  Etters,PA  on  September 03, 2023
The weedeater and lawnboy seem to run better with it.
This Stuff Works!!
By  Shelby650hp,  a  Verified Buyer  from  Central Florida   on  September 03, 2023
Have a 21 year old gas powered leaf blower & I have used Saber 2stroke oil in it for the last 10 years!! All Stock & it still runs lik it was New!
BEST SAW OIL OUT THERE
By  Al,  a  Verified Buyer  from  PA  on  October 01, 2022
USED IT FOR PROBABLY 30 PLUS YEARS WORKS GREAT!
Timber falling
By  CLAY,  a  Verified Buyer  from  Sonora, California  on  November 29, 2022
I am a timber foer a cat seven days a week. This is the best burning cleanest product that I have found for my chainsaws.
2 Stroke Motorcycle
By  JASON,  a  Verified Buyer  from  Texas  on  May 11, 2022
I've used this stuff for years on my 300 2 stroke motorcycle. I've done 2 top end rebuilds and there was barely any carbon build up. Works great.