Donaldson Blue Oil Filters
Engine Protection Filters Drive Costs Down
Donaldson Blue lube filters are made using exclusive advanced synthetic media technologies. Synthetic media technology delivers:
Extended Service Life
Greater engine protection to prolong engine and equipment life
Improved lubricant flow
Improved cold start performance
Reduced operating costs
Can be used beyond OEM drain intervals
Check Price or Buy
Donaldson Blue? oil filters are made with premium advanced synthetic media technology that results in fibers that have a controlled size, shape and smaller fiber diameter.
The controlled media manufacturing process allows Donaldson Blue? oil filters to deliver both higher dirt holding capacity at the same pressure differential and higher efficiency compared to conventional cellulose filters. The synthetic media also has better durability with usage.
Throughout the service life of a cellulose filter, hot oil will degrade the resins that bind the media. The synthetic media technology uses a wire screen backing pleated with the media, resulting in superior strength.
Donaldson Blue? oil filters offer extended service intervals, greater engine protection to prolong engine and equipment life, improved lubricant flow, improved cold start performance and lower operating costs.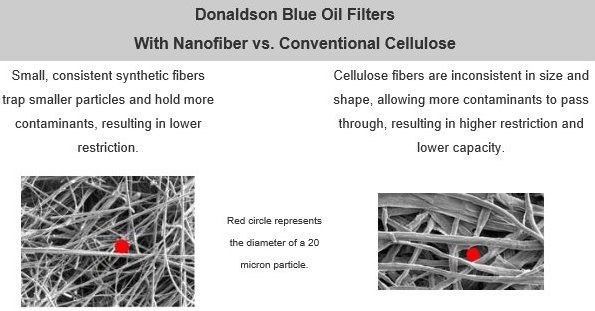 Buy in the Sioux Falls AMSOIL store at 4610 W. 12th St. or use this Online link to the Amsoil sale page if you are outside of the area.