AMSOIL Deluxe Grease Gun Kit
The AMSOIL Deluxe Grease Gun Kit (GLCGN) makes the job of greasing equipment even easier.
This is for our 3-ounce cartridges only which are available in the multi-purpose grease and the ever popular water resistance grease. All in stock in the Sioux Falls store.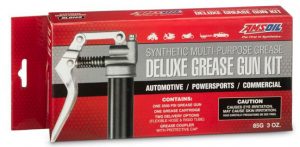 Develops up to 3,500 psi, ensuring grease is adequately applied to the application
Improved pumping performance
Two convenient grease-distribution options (flexible hose and rigid pipe). The pistol-grip design and rigid hose allow one-handed grease application, while the flexible hose eases access to hard-to-reach locations.
Two head ports for increased flexibility and comfort
Plastic tip cover protects against debris
Easy-to-use plunger simplifies loading
Designed for small 3-oz. grease tubes only
Check Price or Buy
Buy in the Sioux Falls AMSOIL store at 4610 W. 12th St. or use this Online link to the Amsoil sale page if you are outside of the area.