Slip Lock Gear Oil Additive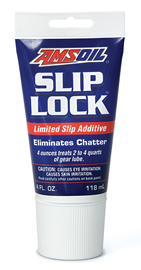 AMSOIL Slip Lock Gear Differential Additive is formulated for use with both synthetic and petroleum gear lubricants and safely replaces manufacturer-recommended friction modifiers. Its convenient squeeze-tube packaging provides quick and easy application to the gear housing. One four-ounce tube of Slip Lock treats differential capacities of two to four quarts. It is not for use in automatic transmissions or other applications requiring automatic transmission fluid.
NOTE: AMSOIL synthetic gear lubes do not require this additive. However, not all differentials respond the same and the addition of AMSOIL Slip Lock will eliminate chatter in mechanically-sound differentials.
Download Product Data Bulletin
Check Price or Buy
Contains advanced friction modifiers
Eliminates gear housing chatter
Recommended for cars, trucks and SUVs
For warranty information, visit AMSOIL Warranty Information
Note: Our differential oils have this installed already but generally 15% of the differentials out there will still need additional. This product can easily be added of chatter is noticed. It's also great for any GL5 gear lube, OEM or name brand which doesn't have the appropriate amount.
A popular product at the 4610 W. 12th location in Sioux Falls.
Buy in the Sioux Falls AMSOIL store at 4610 W. 12th St. or use this Online link to the Amsoil sale page if you are outside of the area.